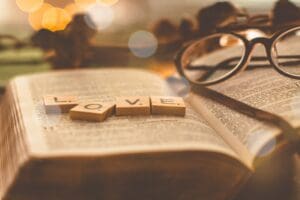 Every once in a while, I'm asked to write on the topic of what I love about Grace. As I think about it, it's really not a "what" question. Because it's impossible to answer what I love about Grace without considering the who. This reality hit me across the face like a cold, hard slap this week as I reflected on the life and awfully sudden passing of Donna Youngblood.
For decades, Donna served our families as a junior kindergarten teacher, the entry point for so many at our school. Donna was beloved by every student and parent who was blessed to be in her class. There was nothing she had not seen or did not know about the heart of a child, and she was a master at molding and shaping young hearts to know Jesus.  Every year it seems some sweet first-time mom or dad would believe their child was the exception, the one with the kind of child Donna had never seen before; they worried this would be the one who would finally be her match. Whenever I heard that, I would smile and nod, as I know would she. I called Donna "the Kid Whisperer." Through her wisdom and kindness, she could make anyone fall in love with her, as every child I knew did.
The feeling was mutual. They loved her because she loved them first. Donna had an uncanny ability to remember detailed stories about specific children, often many years after they had moved on from her class. Even as my children are now grown, I would occasionally receive a photo or hear a funny story from Donna as she remembered my kids. As I looked back through my email from her this past week, two stand out. Two years ago, when my youngest graduated from high school and was moving into Baylor, Donna emailed me to remind me of a funny story about that child. About when that kid was testing for junior kindergarten. Sixteen years ago. Donna had hundreds of students come through her classroom since my recent high school graduate, yet she remembered her in vivid detail. Last February, Donna sent me a photo of my now 22-year-old middle child from fifth grade, with her friend and classmate Olivia, who died their fifth-grade year from a cancerous brain tumor. We reminisced about the pain of that moment in time, and the toll it took on both our kids (her son was a hospice nurse who attended Olivia, only to leave that profession from grief soon thereafter). On that day, only a year ago, we reminisced, and grieved, and rejoiced over the joy and tragedy of living in true Christian community. Like today.
This wasn't just some connection she had only with me. Many of you had these moments, as well. Donna felt that way about your kids, too. She remembered, and she loved. All our lives as parents, all we ever want is for someone other than us to actually know and love our children the way we do. Donna was that person for so many of you. For her, teaching your kids was her act of worship, and that's what made her spectacular.
So many of our children, including my own, began their long journey of reading and learning at Donna's feet. Generations of parents were taught to better shepherd their kids in part from the godly wisdom Donna dispensed as she put their children in their cars at the end of the day.
I often tell the story of my coming to Grace as a young lawyer, offered the development director position, one that would require me to make significant life and financial changes at a time when my young family had just grown. God persuaded me to take that step through His Word, a specific passage of Scripture, spoken from the lips of my then four-year-old: "Daddy, my God shall supply all your need according to His riches in Christ Jesus." God used that Scripture and my child to tell me that I should not be afraid, that I should trust Him, and that I should leave all I knew for this place and this career I knew nothing about.
Donna Youngblood taught my four-year-old that Scripture, sowed it on her heart, and readied her for the Holy Spirit to use it to convict and minister to me that day. In that way, Donna changed the face of my family, and I guess our school, forever. I'll never be able to express my gratitude adequately for her faithfulness.
Donna was an extraordinary lady of Jesus. Yet, she's not an outlier. When I ask my own children, now grown, what they are most grateful for about this place, they tell me about school friendships that are rooted in faith and remain some of their closest to this day; the opportunity to grow and learn more about themselves and their faith in a safe environment; their preparation for college (my oldest says, "I was leaps and bounds ahead of my college friends in knowing how to study and write").
Yet, what continues to astound them, and me as well, are the godly adults they've known and who have influenced them profoundly. Like the team of high school teachers who did virtual learning before it became cool for my middle child, who contracted mono from mid-January to June her sophomore year, allowing her to survive academically. Or, the middle school math teacher who knew my child's heart so well, and discipled her above and beyond middle school all the way through high school. Or, the high school English teacher who, knowing that my youngest was a "stress baker," brought a cookbook from his own collection to her house during COVID lockdown, just to let her know he was thinking about her and that he loved her.  And, the list goes on and on.
Or, what about the families themselves? At this point in their lives, my kids tell me they deeply appreciate the community of families, their friends' parents, who still love them like their own and continue to encourage them even into adulthood. People with whom we've done life with, raised kids, traveled and laughed and cried with through the seasons of celebration and hardship of life, and even now walk through the joys and challenges of empty nesting, caring for aging parents, and all the beauty and tragedy that this world brings, encouraging each other in the love of Jesus.
This world is going crazy. People are unkind, and marginalize each other, attacking and canceling each other, and have no commitment to each other or to Jesus. This world needs the hope of Jesus and his people, committed to doing the hard work of moving beyond just consuming school to being deep promoters and engagers in biblical community. Loving each other this way gives honor to Jesus, makes much of Him, and draws others to Him in a way that nothing else, neither arguments nor persuasiveness, ever could. It also provides the richest legacy of learning and love you can possibly provide for your kids. After 20 years of doing this and seeing so many other ways, I can confidently say that if you're a Christian in this culture, in most circumstances this is God's best.
So, I'm going to do what I don't do very often. I'm want to implore you to be a part of us (if you're not already) and to stay a part of us. Not because we need your tuition dollars (God always provides for us), but because you and your kids need this, and we're also better with you.
At the end of the day, the question isn't what I love about Grace; it's who I love. And, the answer is Donna. And, the people. Like you.