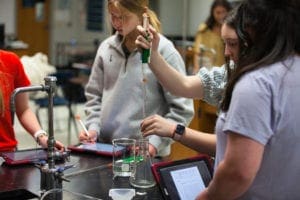 I am sometimes asked why we make such a heavy financial investment in what, over the past decade or so, has come to be known as "STEM"-science, technology, engineering, and math-here at Grace. Others have asked why we don't go even more "all in," focusing on STEM to the exclusion of language, history, and those other things that, in the minds of some, don't really translate into marketable job skills, or don't really represent where the New Economy is, and where it is headed.  These are good questions, and to answer them goes to the core of what makes us image-bearers of God and what makes Grace a distinctively-Christian school.
First, focusing on STEM is neither new for Grace nor for Christian education, generally. The Church is one of the early originators of STEM education in the West.  From the early days of the Church through the middle ages, most education it provided to both clergy and laity was classical in nature, looking to the legacy of the Greeks and Romans, yet sanctified through faith in Christ. Education focused on what was known as the quadrivium, or four primary concentrated areas of study: arithmetic, astronomy, geometry, and music. Furthermore, for most of the two millennia after Christ's resurrection (with the exception of the last 150 years or so), what scientific study was conducted in the West occurred mostly by Christians, as a way of better understanding the creation around them. You might say the fairly recent educational emphasis on STEM is a "back to the future" moment for Christian schools.
These principles still guide our study of STEM at Grace.  We call our STEM study "Purposeful Design," and we do so to avoid some of the negative, exclusive connotations of STEM in other educational contexts. We also use Purposeful Design to remind us that our perspective on each aspect of STEM is simply a continuation of two millennia of Christian thought on the world around us and our role in it.  Very simply, mathematics is the language by which God created the cosmos, and understanding mathematics gives us a greater understanding of the order by which He put things into being. Engineering, and the laws of physics that support it, are the creational norms or rules by which God ordered the language of mathematics to create everything around us. Engineering, through physics, biology, and chemistry, are the grammar and composition that provide structure to the language of math.
Technology is simply man's attempts to harness this stuff of creation in order to take what God has created that is good, and make it very good: to unleash the potential that God created in the earth. Author Andy Crouch notes that omelets from eggs, furniture from wood, hammers from iron, and computers from silicone and mathematics are all forms of technology, taking what God has created and forging something beautiful and useful from it. Science as a whole is one way to study God's creation, through its own set of rules, and subject to its own limitations. From the Christian perspective, science is neither religion (with its own claims about ultimate meaning), nor is it an absolute truth in itself, but one of many ways (like logic, emotions, art and beauty, and theology) of knowing truth.  In Romans 12:1, Paul exhorts God's people to "present your bodies (including your minds) as living sacrifices, holy and acceptable to God, for this is your spiritual act of worship."  Studying the creation around us, and harnessing the creation for God's glory and human good, is the basic essence of what it means to be God's redeemed image-bearer.
From this perspective, investing heavily in STEM, or Purposeful Design, goes to the very core of our mission as a Christian school. We exist to prepare our students to worship the Lord through their primary calling of worshipping the Lord and enjoying the world around them, and to fulfill their secondary callings (whatever vocation and purpose God has for them individually) to impact the world for His Kingdom. God may call them to practice medicine or nursing, or to engineering, or to design or program digital technology, and they will need a full understanding of these areas and a God-shaped perspective on all of them. Even if God does not call them to one of these fields, however, they will still need some understanding of the Purposeful Design of God's creation. The purpose of Christian education is not solely pragmatic, meaning what one can do with it. At its best, it also fosters gratefulness, lament, and, in this case, curiosity and awe, all of which makes us deeper worshippers of God and draws us closer to Him.
Yet, for all the value of the Purposeful Design aspects of education, they cannot be divorced from the context of the humanities, from reading, and writing, theology, logic, rhetoric, history, music, and art. While Purposeful Design gives us the power to harness creation, the humanities are what harnesses that power with righteousness and truth.
This is why, at Grace, we do not create a technical or science or vocational track like some schools do, divorced from the humanities. Because doing so only provides part of what our students need to be good disciples and human beings. Through the humanities, students learn what constitutes the life well-lived. They learn what the great writers and thinkers throughout the ages have said and thought about what is true and noble and good. They learn what it means to be a good man or woman, and good citizen, and a good steward of the things they have been given. And, when they receive a Christian perspective on the humanities, when they learn all those things through the lens of what the author and creator of the universe has to say about who they are and how they were created to live, it is truly spectacular and life-giving.
One of the things Grace does better than any school in this area, and as well as I have seen anywhere, is to teach students to write. The process of writing, part of the humanities, involves thinking and discerning, reflecting and concluding, organizing and composing, all of which are indicators of a well-trained mind.  These are sometimes called "21st-century skills," but they're really necessary for any culture at any time.
A person who has been fully trained in the humanities and in Purposeful Design (STEM) is one who will be equipped to think for himself or herself. In his wonderful work Ordering Your Private World, Gordon MacDonald notes that, "the person who does not know how to think will be relentlessly shaped and influenced by the dominant culture around him or her. But the transformed person will be busy thinking, reflecting, and making independent conclusions about the meaning of life and reality."
Quite frankly, our culture is filled with dull, lazy thinking, some of it the product of poor education. When our minds are dull, we become susceptible to ways of thinking that aren't God's ways, led by people who, as MacDonald says, "simply outthink us." We're surrounded by that now, aren't we? We see it all the time, and Christians are not immune. This is what Mark Noll called the scandal of the evangelical mind: when we aren't trained well to think for ourselves, we are easily misled, and must resort to appeals to power, authority, and just talking louder as a cover for our inability to form coherent thought and cogent argument.
Conversely, a well-trained Christian mind, subject to a heart for God and others, controlled by righteous character, can influence others and change the world. Our mission is to train up world-changers, large and small. And, a full, rich, God-breathed curriculum, one which emphasizes Purposeful Design as part of discipling a whole son or daughter of God, is the framework for accomplishing that mission.