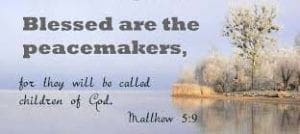 "Blessed are the peacemakers, for they shall be called children of God."
                                                                                                                      Matthew 5
As we entered the new year, I resolved to take a break from the one-year race through the Bible routine I've engaged in for the past number of years, and to slow way down. This year, I'm focusing and meditating on short passage of Scripture, an ancient practice called lectio divina, or divine reading.  I've been focusing on the Beatitudes, Christ's surprising admonition as to who are among those blessed in Christ's Kingdom. Over the past few days, I've been thinking and praying about the passage above, what it means to make and to be at peace, and what that means for our school.
In Hebrew, "peace" means more than simple quiet or absence of conflict. It is actually "shalom," which translates to being safe in mind, body, and spirit. It is completeness, fullness, and wholeness. Throughout its history, Israel rarely experienced peace in the sense of freedom from conflict. It battled for the land God promised the nation, and fought to maintain it. Yet, God pronounced upon them a blessing of shalom: "The Lord bless you and keep you; the Lord make his face to shine upon you, and be gracious to you; the Lord lift His countenance toward you, and give you peace." (Numbers 6:23-26). Even in the midst of war, the people of Israel were to share in the fullness and completeness of God's presence and His protection.  Likewise, the gift of the Lord is that we have peace in the midst of our storms, peace that is rooted not in our external circumstances, but in the fact that we're grounded in the God who is all that is whole, perfect, and complete, and we find these things in Him. That's shalom.
 A couple of years ago at Grace, we set out with an internal goal to build a "shalom-based learning environment."  We realized that, at that point, learning in American culture had become highly standardized test driven, forced upon K-12 schools by the college admissions algorithms.  This resulted in high stakes testing, an overabundance of memorize and test-type learning, racing through lots of material in a mad dash to cover it, generating large amounts of in-class work, as well as loads of homework, and contributing to high levels of stress among our students, teachers, and families.
We understood that we weren't the sole cause of stress among teenagers in America; they have social media and digital devices, and a host of other spiritual and nonspiritual influences in their lives contributing to that equation (the subject of more than one blog). We also knew that becoming "shalom-based" didn't mean "non-rigorous." In nearly 20 years of leading this school, I've seen that part of what makes a Grace alumnus able to thrive academically, spiritually, and socially relative to their counterparts in other schooling contexts is that Grace isn't easy. Getting in to a college and staying in and flourishing are two different things, and we believed that shalom and rigor could exist side-by-side.
Yet, in a school that "teaches Jesus," shouldn't what we teach and, maybe more importantly, how we teach, reflect that shalom, the wholeness and completeness that comes from the life and grace we have in Christ? We thought so, and we've been thinking and retooling our school to reflect teaching for shalom.
Teaching for shalom means several things. Calvin College and Yale educator Nick Wolterstoff has identified several excellent elements of teaching for shalom. It starts with a different vision for education. Most schools educate kids primarily for one of these reasons, first and foremost: 1) to occupy a place in society, like a holding a job or being a good citizen; 2) to transmit cultural inheritance, like western civilization, to the next generation; 3) to foster individual growth and self-actualization; or, 4) to equip people as social critics of society.  These are all good things, but not rooted in a distinctively-Christian vision for education. Teaching for shalom means primarily looking at education with a Christian vision, realizing that we can only be at peace when education focuses on rightly ordering our relationships- with God, with others, with creation around us, and with ourselves. Teaching for shalom means modeling and equipping students for wholeness and completeness in all these relationships.
Teaching for shalom is rooted in God's Word, and sees the Bible as the source of truth, gratitude, and justice. As followers of Jesus and children of God, we are children of the Word. God's Word is a story, a narrative of God's love for human beings, and His redemptive work through Christ and His people acting in human history. Teaching for shalom helps kids see God's grand story, and that they are a part of the story, called by a God who loves them to be in right relationship with him through Jesus Christ, and to rightly order their own relationships with others (through love and reconciliation), with creation (through studying and making culture, and stewarding the earth), with God and with themselves (through spiritual and emotional health and a clear sense of identity).   Teaching for shalom also means learning the ways in which God calls and uses them to serve others, seeking to help them rightly order and restore these relationships in their own lives.
Teaching for shalom is characterized by justice: not as much about earthly justice, meaning law and order, but biblical justice, which Scripture defines as caring for, promoting, and regarding the well-being of others. Seeking others' well-being includes, and emphasizes, the marginalized and powerless, whoever and wherever they may be.  Promoting biblical justice in the classroom involves helping students cultivate empathy for each other, and for the oppressed and marginalized in the world around them, so they will be moved to contribute towards rectifying injustice when they see it.  Helping students come face to face with victims of injustice, whether in God's Word, their own classrooms, or the world around them, seeing things that are not as they should be, and working to alleviate injustice, all in the name of Jesus and in the context of restoring those relationships, are all part of teaching for shalom.
Finally, teaching for shalom is characterized by gratitude. Calvin professor Brian Garrish has said that to be fully human is to be that point in the cosmos where God's goodness finds its response in gratitude. Gratitude is at the heart of worship, and is the motivating factor in obedience to God. School is not only about studying God's works, but His gifts, as well. God's commands are also invitations, offers to live in a way that promotes personal and collective flourishing. Every good thing from God is a gift, and the natural response to His gifts is gratitude. But, in order for gratitude invoke worship and obedience as a way of life, it must be cultivated and become a discipline, a practice. In short, it must be taught, and modeled, and rehearsed, all as a way of forming and shaping one's heart. A Christian school teaching for shalom is one that intentionally seeks to cultivate gratitude in its students.
The end result of living and learning in a shalom-based school school environment is wholeness and completeness in Christ, and this is what we're seeking for our students, and for ourselves. Rather than some perception that life is easy or without difficulty or trial, it is living as educators and students within God's story and within a learning community that is at peace with each other and in who they are with God. It is a community that is at once both aspirational and present and real; it is both who we are, and who we want to be.