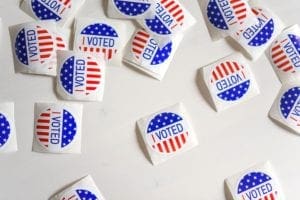 As we sit on the eve of what most believe is the most contentious and, for true disciples of Jesus, difficult election in modern history, I wanted to take a moment to encourage all of us. Given the tenor of these elections, and the fear by many that the biggest loser on election night will be America, it might seem there's little cause for encouragement.  But, we serve a God who traffics in hope; it's His stock in trade. And, in fact, it's when times seem hopeless that He's at His best. Like, when everyone thought He was dead, buried in the grave, an abject failure. In one moment, all eternity changed.
There are three things in this election that give me hope and even, dare I say, joy, in the midst of confusion and political strife, and I hope for a moment to give you a little hope, too.
The first is that this election doesn't really matter. Oh, sure, elections have consequences, and if our guy, whichever candidate that is, doesn't get elected, we'll be disappointed. For a while. But, if we are disciples of Jesus Christ, not just believers, but those who have chosen to follow, to do what He does and live how He lived, politics doesn't matter all that much. Our hope doesn't depend on it. We are the remnant: God's people, quirky, and peculiar, and not of this world.  While it's important as good citizens to be involved, political power is not how we flourish best; in fact, historically, we have not done well when we've had it.
Our best work is from the margins, and from those margins Christians in the West brought the name of Jesus throughout the world; created a system of charity and care for others that resulted in hospitals and clinics, the foundation of modern health care; taught people to read God's Word, laying the groundwork for schools and the great colleges and universities of the past millennium; developed an ethos of human dignity, value, and worth that eliminated the slave trade and continues to battle human trafficking, and has and continues to reduce incidents of abortion, whether or not the practice is illegal.
Everywhere Christianity has thrived, joy and mercy and peace and love have flourished, and it really doesn't matter who is president or king or Caesar or premier, when Jesus is Lord. That was true yesterday, it's true today, and it will be true next week. But, only at the hands of Jesus' true disciples, those who are committed to follow Him, and live as He lives.
The second encouragement I have for you is that the Messiah won't be elected next week, and he won't come again on Air Force One.  Looking at the election through the lens of Scripture, it's clear that God cares deeply about human dignity and value, about the sanctity of life, and about His design for humanity and the family: men and women, and human sexuality, because He designed it all. And, He cares that we love others who aren't like us well, and He cares a lot about the sojourner (foreigner or immigrant) and that we treat them well. He also talks about reserving gleanings from our fields, and the Year of Jubilee, and other provisions, showing us that He cares about the poor and avoiding generational poverty. In Genesis 1, God called us from the very beginning to be good stewards over the earth, to protect it and cause it to flourish. And, the personality and character of a leader matters, too, because leaders impact national character, for better or for worse.
All this means that the gospel transcends politics, and the "man after God's own heart," in the sense of David as king, isn't running for president this year. God puts people into leadership positions in a Romans 13 kind of way, but we're all going to have to make compromises to vote for someone who's running, if we're looking at it purely from the eyes of Scripture.
That's not a bad thing, and has probably been true to some extent in every election. It frees you to be prayerful and ask the Lord for wisdom, and vote your conscience, which God gives us as a gracious gift.  That's a good thing, and you shouldn't be shy, or afraid, or ashamed to do it. But it also means that some of our brothers and sisters in Christ may vote differently than we do, and Christ's love calls us to give them the space to realize that they've simply seen very complex issues from a different lens than we.
The final encouragement I have to offer is that, regardless of how this election ends, we are one. One school. One community. One people. Last week, my pastor was preaching Colossians 3, in which Paul encourages a group of people at odds: "Here there is not Greek and Jew, circumcised and uncircumcised, barbarian, Scythian, slave,[e] free; but Christ is all, and in all. Put on then, as God's chosen ones, holy and beloved, compassionate hearts, kindness, humility, meekness, and patience, bearing with one another and, if one has a complaint against another, forgiving each other; as the Lord has forgiven you, so you also must forgive.  And above all these put on love, which binds everything together in perfect harmony.  And let the peace of Christ rule in your hearts, to which indeed you were called in one body. And be thankful."
If Paul were alive, and in America, maybe even among us at Grace Community today, he'd say, "we're not Greek or Jew, circumcised or uncircumcised, Republican or Democrat, white or black or Hispanic, "masker" or "anti-masker," but Christ is all, and in all." My hope and prayer is that the love Jesus called for, the love He died for, would be preeminent and manifest among us, and that we would be thankful and rest and trust in Him.