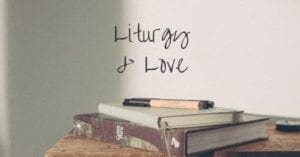 Of all the things cancelled by COVID and its impact on culture, if I'm honest, one of the things I was most concerned about losing was college football. I love college football. One of our favorite memories with my girls as they were growing up was making waffles on Saturday morning while watching College Gameday.  I like watching it on TV, reading about it, following it on ESPN and other sites, listening to sports talk radio, and attending Baylor games (when they let me come; not this year-we're social distancing, you know).  As I was reflecting on it the other day, perhaps the very reason I love it so much, is because those activities I do have actually shaped how I feel about it.
What we do shapes and molds what we love.  In Desiring the Kingdom, James K. Smith says that we learn not primarily through gaining information, but through formation, through shaping and creating a particular kind of people. Our school, a Christian school, is not first and foremost about disseminating information, but about forming a peculiar people, the formation of disciples of Jesus, the teaching mission of His church.  Smith observes that we're educated or formed (all of us, not just kids) by liturgies.
Liturgies are certainly the things we say and do in church, whether we're part of mainline or nondenominational churches. But they're so much more than that, according to Smith. They are practices we go about every day that form and shape us: The things we watch, the things we hear, what we read, what we follow, what consumes our focus, over and over again. Our liturgies reinforce our inclinations, forming us into certain kinds of people. "Liturgies aim our loves to different ends …by training our hearts through our bodies. They prime us to approach the world in a certain way, to value certain things, to aim for certain goals, to pursue certain dreams…every liturgy is an education." It's not an education that aims for our head, through ideas, however. It aims through our heart, through emotions.
As I've been thinking about Smith's words, and how they impact our culture today, it seems to me that people are formed by all kinds of things, to all kinds of ends. They can be formed to become football fans, or guitarists, painters or bird lovers. But, they can also be formed to darker ends. I heard someone say the other day that the chief ends of our current culture, the most common themes, are anxiety and anger.  When you think about it, there's a lot of truth to that.  The term "outrage porn" was coined by Tim Krieder of the New York Times to describe media designed to evoke outrage for the purpose of getting attention or Internet traffic.  The problem is that this constant provocation to anger over social, political, and other issues is not only pervasive, it's heart-forming.  As we read and explore online media and other sources that appeal to our sense of righteous (and sometimes, admittedly, unrighteous) anger, artificial intelligence reads what we're reading, and brings more of it to our digital doorstep, in order to sell to us. Before long, we're reading more and more of it. As we do, it begins doing the work of all liturgies, molding and shaping us into fundamentally angry people. I've had friends share with me concerns of loved ones, stuck at home watching 24-hour news of one slant or another, who are genuinely concerned they've become angry people.  Liturgy has shaped their heart.
Or, take anxiety. I've shared in this blog studies showing that, since the advent of smartphones and social media, both anxiety and suicide levels in teenagers have increased significantly. Sociologists believe they are correlated. As teenagers, and even adults, watch others living largely curated images they actually really live out on social media, what writer David Brooks has called "other people's highlight reels," fear of missing out and false comparisons cause heightened depression and social anxiety. Feeling lonely, kids reinforce their anxiety through still more social media use, the liturgies repeating themselves over and over, forming the heart.  We become what we dwell on, and it shapes our hearts.
Paul knew the power of liturgies, which is why he tells us in Philippians 4, "whatever is true, whatever is honorable, whatever is just, whatever is pure, whatever is lovely, whatever is commendable, if there is any excellence, if there is anything worthy of praise, think about these things." We can actually liturgize our kids (and ourselves) into loving other people lavishly.
I know how to liturgize myself into being a football fan, but how do I actually liturgize my kids into loving others?
First, and perhaps most difficult, I have to actually help my kids consider others better, more worthy, than myself (Phil. 2). I was reading Jeremy Taylor, a 17th century bishop. They didn't mess around in the 17th century. He said, "humility consists in a realistic opinion of yourself, namely, that you are an unworthy person." That sounds funny in 21st century, self-love America, and it's even harder when so much of our lives consist of telling our children how wonderful they are. But, really, Taylor's advice is the accurate picture taught by Scripture. The reality is, as my pastor says, the only thing we really deserve from God is death. Everything else is a gift. We're not great people because of anything intrinsic to ourselves; yet, God has chosen to save us, and reconcile us to Himself, by sending His Son to become our servant, dying or us. He does so with the intent that we do likewise to those around us. The beginning of everything good in life, and good in our kids, comes with the realization that they are sinners saved by Grace, made in the image of God, distorted and broken by sin, and redeemed solely by the blood of Christ. We teach them this by reading God's Word with them, sharing the story of Scripture with them, and telling them the stories of our lives that live out these ideas. When our kids see themselves in this way– as a completely unworthy person loved by an awesome God–it's a lot easier to consider others better than yourself, and to love them.
Second, we have to teach them to pray for other people, interceding on their behalf. Prayer is part of liturgy, because we can actually pray ourselves into loving people. Have you ever had someone who totally bugged you and committed to pray for them for 30 days? I have, and it's truly amazing how God actually forms your heart and gives you empathy and regard for that person. Praying alongside our children for other people is one of the most beautiful disciplines we can engage in as a parent, and it teaches them to love. Prayer is truly a heart-shaping tool.
Serving others alongside our kids is another great liturgizing practice. It's also a humbling one. It immediately takes us out of ourselves and our needs and puts us into the life and heart of another.  It is a God-given, beautiful truth that you can actually love yourself into loving someone by doing loving things for them. In fact, in premarital counseling I've told married couples even when you don't feel like you love your spouse, just "act like you do," meaning do the serving, caring, considerate things that loving spouses do. In most cases, God actually works it out to increase your affections for that person. It works with other people, too, not just your spouse.
Thinking the best of each other is a fourth way to mold our hearts toward love.  It's easy to ascribe ill motives to people, to not think the best of them. That way devolves into bitterness, which kills you, not them. But, actually assuming the best of someone until proven otherwise, and even then trying to empathize with why they did wrong, helps shape love for another.  It paves the way to forgiveness, which is the next liturgical practice.
To forgive and to seek to be forgiven is the final liturgy of love, and it requires everything else we've talked about: humility, and prayer, and a servant's heart, and empathy.  Robert Muller said forgiveness is the highest most beautiful form of love. It not only unleashes our ability to love others, but it finally sets us free.