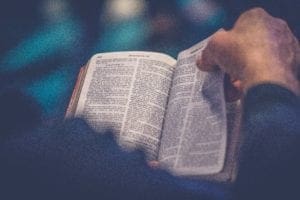 Three parables of Jesus have haunted me. I've read the Bible multiple times, and each time I read it I'm confounded by these three. They are all about the same thing, and they couldn't be more relevant to the season of life we now find ourselves in.
The first is found in Luke 11: 5-8. In this story, a neighbor knocks on the door of a homeowner in the middle of the night and says a friend has arrived from out of town. The neighbor has nothing to feed him; will the homeowner loan him a loaf of bread? Houses in that day were small, one-or-two room affairs; the bread was just on the other side of the room. The owner would have needed to simply grab the bread, open the door, hand it to the neighbor, and bam! Problem solved. Yet, this guy wouldn't bother getting out of bed. Finally, after incessant pounding on the door, the owner dragged himself out of bed, retrieved the bread, and gave it to his neighbor, just to be done with his persistence.
The second parable is that of the seemingly uncaring father, in Luke 11:11-13. A dad, who is asked by his child for one thing, gives him something else, something seemingly worthless, of lesser value than what he asked for. And maybe even something that appears dangerous. A snake instead of a fish? A scorpion instead of an egg? Something painful, instead of life-giving? What kind of whacked-out dad is that?
The third parable is found in Luke 18:1-8, the famous story of the persistent widow. This woman is destitute, like Naomi in the story of Ruth after all her male loved ones had died. She is victimized, and she needs justice. The only one who can give it to her is a corrupt judge, who considers himself above the law. He ignores her pleas, and yet (like mothers throughout time, by the way) she continually wears him out by her repetitive asking. He gives her justice, "so that she will not beat me down by her continual coming."
What confounds me about these parables is not the point of all three–that persistence in prayer reaps fruit–but that Jesus would use them to paint such an unflattering picture of God. Uncaring neighbor. Disinterested or even malicious father. Unrighteous judge. What I have come to love about these parables is their gritty authenticity, and Jesus' kindness and empathy in telling them. Because they are not told from Jesus' perspective, but from ours.
In this season, with an epidemic that we ask to end, but doesn't; grief and anxiety that we want to get past, but can't seem to shake; anger, division and polarization at a level that it seems the world is coming to an end, we cry out to God again and again, but we don't seem to get our answer. We knock, and it seems like He won't respond. We ask for relief, or for those things that seem to us to be life-giving- health, peace, maybe even prosperity– and He appears to reply with illness, conflict, and trials, things that to us seem harmful and dangerous. And, in our destitution, we cry out to Him, and He responds in ways that demonstrate, to our perspective, a lack of care- is He even a good God, or is He an unrighteous or unconcerned one?
The answer, for me, is in the fourth parable, maybe the most famous one–The Prodigal Son in Luke 15. There are two sons, and both of them are pretty worthless in their own ways. One, the younger, has a flighty kind of "love," wandering away from his father whenever Dad doesn't meet his expectations; this son wants a genie, not a relationship. The older son is a moaner and groaner, angry and bitter. He's had a longer "relationship" with the father and thinks he knows how it works: he's a "good boy," Dad gives him what he wants, and everybody's happy. He's not a loving, obedient son; he's a prideful, master manipulator. Neither are loving their father lavishly, or, really, at all.
Which are you? If I'm honest, I've been both at various points in my life. Yet, God is the one who loves lavishly- the one who runs embarrassingly, unselfconsciously down the path to embrace me when I turn my eyes back to him from my stupidity or my vanity. God stands at the door of our home, pleading with me to come inside and celebrate with him as I stubbornly stand outside, arms defiantly crossed, asserting my "rights" to be a moralistic heretic.
All the while, this dying world is in desperate need of mentors in faith, loving people who will mourn, and rejoice, and embrace, and counsel, and empathize, and who will be life-giving balm on grievous wounds. As David Platt says, we are the Church, and the Church is God's Plan A to save the world. There is no Plan B.
But, there's only one way my stubborn, prideful, sin-born heart can be trained to love and chase after my loving Father, not for His stuff, but for Him.  The only way I can learn to celebrate and enjoy Him and His presence, and not just view Him as a cosmic vending machine; the only way I can serve Him as an outpouring of love that transforms who I am as a person, rather than engage in some transaction in which I'll always be on the losing end, is to persistently, doggedly, patiently, relentlessly, chase after my Father like a bloodhound, even when it seems like He isn't listening, or doesn't care, or, even when He gives me what seems bad when I know it's good. Because only in that resilient love will I put myself in the burning path of the Holy Spirit, so He can refine all that garbage out of me, making me the holy and pure son of God who will someday rule heaven and earth at my Father's side.  Together with you.
I know it's hard; but, look up the path. Our Father is coming, and all the really great stuff is just up ahead.