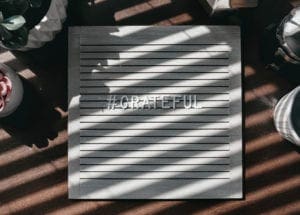 I was reading an article in the May 4th edition of the Wall Street Journal entitled, "A Surprising Way to Stay Resilient." In the article, Elizabeth Bernstein shared that one miracle technique, more than any other, fortified the "psychological immune system," a concept mental health experts use to refer to those mental processes that protect our mental health and keep us emotionally resilient, similar to the way the physiological immune system protects us from disease.
What was this powerful technique? Gratitude: reminding ourselves daily of those things for which we are thankful. Says Bernstein, "people who practice being grateful report significantly higher levels of happiness and psychological well-being than those who do not. They are less depressed…they have lower levels of stress hormones, reduced cellular aging. They sleep better. They have more success at work. And they have better relationships."
I always love when modern science reaffirms what the Author of our minds and bodies has told us for eons- that disciplining our hearts for gratefulness not only honors God, but transforms our lives for God's glory and our good. It facilitates intimacy with our Lord. In so many ways, gratefulness is the gateway to holiness.
Which is why I had a particularly holy moment in God's presence last Sunday morning, as I reflected on what is an extremely significant, personally poignant moment in my season as the head of our school. When I began at Grace, in January 2002, my oldest daughter was already in our junior kindergarten program. I have been a school dad at Grace throughout my entire tenure at our school; my "dad run" ends with commencement exercises for the Class of 2020.  Nineteen years as school parent. When I began, our nation was reeling from the 9/11 terrorist attacks. Now, COVID-19 took the last quarter of my baby's senior year. Think about all we've been through as a nation during those years: Bush, Obama, and Trump.  The Great Recession, the longest economic prosperity our nation has known, race conflict, the rise and fall of the New England Patriots, the Dallas Cowboys never being good.
And, three little girls who were lost and separated from the Lord God, destined for eternal death, now saved through the blood of Jesus, and brought into a growing, maturing, flourishing relationship with a God who was their enemy, now the lover of their souls. All through the ministry of this school and the incredible, faithful people who have served within it.
Almost everything Ashley and I learned about being a parent, we learned from our teachers, our administrators, our peers, and this community. My heart overflows with gratefulness for:
Sitting in a circle on tiny chairs in Mrs. Youngblood's class and praying for the young classmate who was in the four-wheeler crash, that he would survive (he did survive, only to later transfer to Gorman, and ultimately become a friendly basketball rival);
Having my kids' hair done on Picture Day by the elementary office staff when Mom was out of town for work and Dad was scared, desperate, and hopeless;
Every word of encouragement I hung onto like a drowning man to a piece of driftwood in the classrooms of Nan Timmons, Glo Tjoelker, and countless others in precious parent-teacher meetings;
Laughing with our kindergarten teacher about my kid taking off her socks and putting them in her lunchbox at recess, and convincing all of her classmates to do likewise, thus creating a bizarre sock-shedding trend that left all the other parents befuddled as they unpacked their lunchboxes at day's end;
As young dads, building Habitat for Humanity homes with our daughters on Saturdays, times spent floating down the Buffalo River with two girls and to Broken Bow with another- lifetime relationships with godly men that bless me still forged on the river and in the forest, and with little girls who grew to invite me to perform their weddings;
Standing in the front yard of my house praying in a circle with my child's friend Olivia and her mom as they headed to Dallas to investigate the mysterious numbness in her fingers. Taking my child to the hospital to see Olivia two weeks later, after she had been diagnosed with a brain tumor. Olivia Night at the Grace football game; reading the Psalms into her ear as she took her last breath, and speaking God's Word at her funeral, and into my grieving daughter's ear.
Tara Hargrove and the way she molded and shaped my girls through tough love, teaching them to pursue excellence, holding them fiercely accountable, yet never letting them doubt her love for them.
The sophomore teachers rallying around my middle child when she had mono from MLK Day to June. We were the vanguards of virtual schooling, five years before it was cool. And, they did it for other kids, too.
Countless nights at football games, cheering on your boys and cheering on my cheerleaders and Cougarettes, but really not doing that at all- instead, talking about life, and parenting, and kids with their pesky free wills who just wouldn't do exactly what we want them to do, and resting in God's grace for all those things we couldn't control, only to find out years later that God's grace was the absolute best place for them to be.
Walking my kid and her classmates through yet another death of a friend, this time by his own hand, once again preaching a funeral for a child.
Building Mexican villages, football stadiums, circuses, Hollywood sets, and trains with other dads as we worked hard and late into the night to raise money for our school.
Watching thousands of games, concerts, plays, and programs, some of which were dreadful (7th grade girls' basketball) and some sublime (high school Christmas concerts- crying through the "Hallelujah Chorus" and Haley Evans' solo of "Joyful, Joyful, We Adore Thee"). And, always marveling at the excellence our teachers and coaches brought forth from my kids and everyone else's.
Listening to all of my kids recite John 3, God's Word woven into their hearts, and hearing Jeanne Crawford's voice channeled through them.
Kindergarten graduations, 5th grade graduations, 8th grade graduations, and high school graduations (we are a graduating, celebrating people!).
My kids coming home and telling me something Mr. Davis shared with them, or how much they enjoyed Friday afternoon dance party in junior high, or my youngest going on and on about the Congress of Vienna project, or how cathartic the pottery wheel and Mrs. Euler was for her emotional angst, and everything they learned and everyone they learned it from.
The pain from getting cut from the soccer team and the joy of making the cheer team, and the ecstasy of having great, lifelong school friends, the pain of being rejected and mocked by others, and the precious and lifelong lessons God taught all of us through all of that- seasons we're not aching to repeat, but would never trade for all the world.
And, finally, Jennifer Davin, and Stacy Holmes, and LeAnn Shields, all of whom were instrumental in leading my kids to Jesus, and to all of their teachers, coaches, and friends who have discipled them along the way.  They will walk and play and live alongside their Savior in the New Jerusalem because of your work, and for all the many words I have, I just don't have enough to thank all of them for that.
Like so many of you, our kids are living with us now during quarantine, in what sometimes seems really annoying but which I know we're going to look back on as a deep blessing. Ashley and I were talking about our girls and what they've become, and we were completely cognizant of the fact that we really cannot take credit for any of it. But, you can, along with Coach Taylor, Mrs. Shaeffer, Mrs. Allen, Mrs. Timmons, Maggi Jones, and all those who came before you.
It has been a good season, and a good year. And, I have grown in gratefulness.