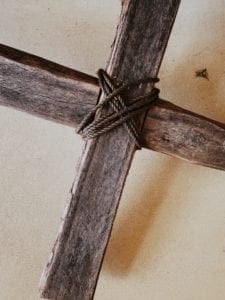 I've been a Christian for over 40 years, and every year as I reflect on Easter and the Resurrection, God is faithful to reveal to me some new nuance, some unopened treasure about this most important event in human history. He's so good that way. This year, I was thinking about Christ's wounds.
I know that sounds weird, but think about it: why did Jesus still bear his wounds after He was resurrected? He still had the holes in his wrists or hands, and the tear in his side where the Roman spear was thrust to prove he was dead that horrible Friday. We know this because of Thomas. Doubting Thomas, who, upon hearing the reports of his other friends that they'd seen Jesus alive, refused to believe it. "Unless I see in his hands the mark of the nails, and place my finger into the mark of the nails, and place my hand into his side, I will never believe." (John 20).  And, so, when the Lord appeared before His disciples after His resurrection, Thomas got His wish. "Put your finger here, and see my hands; and put out your hand, and place it in my side. Do not disbelieve, but believe." If I were Thomas, I would have regretted that statement immediately. "I'm good, Jesus," I would have said, "I believe. No need to do the hand in the side thing."
Yet, it seems Thomas was really the only one who needed that kind of convincing. Everyone else recognized Jesus when they saw Him or soon afterward, as much as His appearance truly astounded and amazed them. So, why did He still bear the marks? Why wasn't His resurrection body clean and pure and unmarked, unblemished, as it were? Why would Jesus ascend into Heaven, and be there now, complete with the marks of His pain and suffering?
I was thinking about this the other day as I was reading an exhortation from my friend, Bill McGee. Bill is the head of Legacy Christian Academy in Frisco, and we've worked together in various school organizations for over a decade. Bill wrote a recent essay called, "Don't Waste this Pandemic." In it, he encouraged his readers that they would, indeed, waste the effects of the COVID-19 pandemic if they viewed it as a curse, rather than a gift.
A gift?  A blessing?  How could an insidious microbe that kills and/or causes great suffering to be considered a gift?  Many cancer survivors like me paradoxically claim that our cancer turned out to be a real blessing.  It brought us to our knees and humbled us like nothing else.  Our journeys resulted in a more mature faith that convinced us that our efforts to fight this disease were futile and that we were utterly dependent on God's mercy.  Such was my experience.  My arrogant independence and "bootstrap" mentality were rendered impotent.  Although not a present that I received with gladness in the beginning, I eventually acknowledged it as a blessing.  What gifts will God bestow on us during this pandemic?  I'm not sure, but I know my Heavenly Father is a good, good Father who delights in spoiling his children with unfathomable blessings.
Bill fought cancer, and won. His battle against that dreaded disease gave him a perspective, an inner strength and a dependence upon the Lord that changes how he views new challenges, like a pandemic and the resulting quarantine.  My friend Bill bears physical scars, but more importantly, he bears mental and emotional scars. His scars are a symbol; not of a bout with an illness that almost killed him, but of a victory God gave him over fear and anxiety, and the gift of new resilience.
Jesus bore the scars on His resurrection body as a symbol and a reminder of the pain and suffering necessary for our redemption. The fact He is risen and resurrected, despite the scars, marks His victory. Those scars always remind us He was, and remains, so very human, able to feel and know and understand our pain, our grief, our hurts, and our joy, as only another human being can, even while also being God.
Every scar we bear, even those being made on our bodies and our souls right now as we endure this trial we've been given, we will also bear on and in our resurrection bodies. We will take these wounds into the New Jerusalem with us. Like nail holes and a spear wound, these marks will tell our story: a story of pain and hurt, and victory given.  Even though the pain and grief will be gone, the hard-fought richness and depth of character, resilience and strength, will be ours to enjoy and draw from for eternity. Like our Lord as we sit at His table, we will be wounded and well.