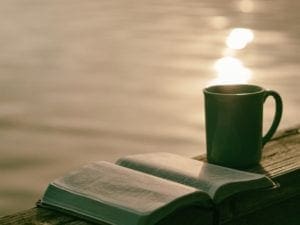 I know as an older school dad, I have a few years on many of you.  There are some things that are not so great about that; first of all, I'm not nearly as cool or as cute as most of you (although there was a time…).  Just about any type of physical activity now makes me sore the next day. And, I'm the last person to learn about things like Tik Tok: being the father of cheer/dance girls, quarantine has meant 7,000 Tik Tok performances captured by video in my house.
There is one advantage to being on the older side of our parent population, as well as having been at Grace now for nearly 20 years. That advantage is historical perspective. And, as I was praying this morning and reflecting on this COVID-19 quarantine, the stress it has placed on all of us, and its impact on my finances, God reminded me of a few things you might also find encouraging.
I was watching Argo the other night, which, if you haven't seen it, is a fascinating movie about a CIA guy who helps six American hostages escape Iran by staging a fake science fiction movie and passing them off as crew members. As I watched the movie, it reminded me of what a difficult economic time the waning days of the Carter administration posed for our country. Which then led me to ponder the mid-to-late 80's, which was kind of the perfect financial storm here in Texas; the oil bust and the banking bust and the savings and loan crisis serving as a killer trifecta which led to the closing of our first iteration of Grace Community High School and almost killed our school.
I then reflected upon the late 90s and the dot com bust, exacerbated by the 9/11 terrorist attacks, and our financial struggles as a community and as a school during that era. That was around the time I joined Grace. I was the head of school during the Great Recession, beginning in 2008, and we walked through those dark days together. And, finally, here we are again, with the financial crisis brought on by COVID-19, not really knowing where it will all go, yet again in a period of financial uncertainty.
Why this dismal walk down the financial train wreck memory lane, you might ask?  Here's where it gets encouraging:  Doing the math quickly in my head, it seems like something like this happens every ten years or so. And, every time, these financial situations bring me anxiety and woe. My disconsolation then operates as a convicting barometer revealing that, as much as I'd like to think I've changed since last time, that I really do trust God for my future, my security, my hope, and my well-being, the truth is that way too much of my joy and happiness still rests in how prosperous I am moment to moment. Times like these completely expose me, and lead me to repentance.
This is really the American Way, isn't it?  I suspect it's common to the American church, and maybe elsewhere. And, so, God, in His infinite mercy and love for me, and His knowledge that I'll only grow closer and deeper in my faith in Him as I learn to trust Him more and more, uses these financial crises, these times when I can no longer trust my stuff, to convict me, and draw me to repentance, and once again remind me that He is all I need, and that my God shall supply all our need according to His riches in Christ Jesus (Phil. 4:19).
Here's the encouraging thing for our school: every time since 1973 when we were founded,  when financial "ruin" struck, God brought us through that season, and within two years or so we were stronger than when the season began. The era after the late 80s almost killed us led to the birth of the conscious cultivation of a spirit of Christian community that so many of you say is what you truly love about Grace.  In the years after the dot com bust and 9/11, Grace experienced amazing growth as a school; some of you may still remember overnight lines the night before school as people waited to turn in their applications for the next year. And, in the wake of 2008? By 2010, Grace had its highest enrollment in its school history, and the groundwork was laid to National Blue Ribbon recognition, CESA certification, and ACSI exemplary accreditation.
God uses seasons like the one we're in to remind us that He's the Lord of our lives, that all those other things we trust in are not, and that this is the best possible news for our joy and well-being.  He uses the aftermath of these seasons to refine us and grow us in ways we had not dreamed possible before, not as some kind of new prosperity, but as an inner blessing of trusting Him as our Lord. God is the Lord of our lives, even when we forget, and He's the Lord of our school. An old friend used to tell me our school's greatest days were ahead; hang on, they're just around the corner (however wide that corner may be). And, yours are, too.