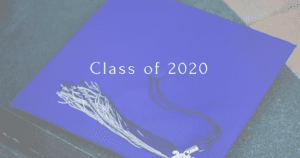 This evening, I was reflecting on my daughter's senior class, the Class of 2020. It's a fascinating class, and not in a way that anyone might objectively want for their children. For this class, their childhood was bookended by cataclysmic events that left our nation, if not the world, in fear and uncertainty. They were born in 2001-2002, in the wake of 9/11, when what it meant to feel safe and secure, and what it cost to achieve security, changed forever.  They will graduate high school, completing their childhood and launched by their parents, into a global pandemic, spending the waning days of their senior year, what for most is a special, resonating moment of life, sequestered in their homes, separated from their friends, with the specter of disease and uncertainty lurking outside. Almost exactly in the middle of that childhood, they lived through the Great Recession, again a time of fear and great economic uncertainty. As parents, we all grieve and mourn for our children, but walking our grieving children through this moment is particularly poignant.
It's easy to find things to grieve and mourn; grieving and mourning is a part of what we're called to be and do as human beings and Christians. This world is not as it was created or meant to be: something went really, really wrong. One doesn't even have to believe in God to sense that. And, lament, mourning over what is lost and what will never be, is certainly a biblical response to the world's brokenness. I'm grateful I serve a God who may tell me not to be anxious and fearful, but who never, ever tells me not to grieve, or weep, or mourn. He expects it. My God is way too intimately familiar with His world to ask otherwise.
God was no stranger to suffering, and this Easter season is the great reminder that, as Isaiah 53 says, Christ was the man of sorrows. Oswald Chambers tells us, "the reason salvation is so easy for us to obtain, the reason our redemption is a free gift, is because it cost God so much…the Cross was the place where God and sinful man merged with a tremendous collision and where the way to life was opened. But, all the cost and pain of the collision was absorbed by the heart of God."
The reason the Atonement seems so easy for us, a gift we can hardly believe we only have to receive to realize, is that Christ bore all the burden for it. It was infinitely costly; we just weren't the ones paying it. I once went to Jerusalem, and stood in the Garden of Gethsemane, where Jesus stood as He prayed that this cup of suffering would pass over Him. Standing where He stood, one can look across the valley and see straight ahead the Antonia Fortress, home of the Roman garrison in Jerusalem. There is a road that leads down from the fortress, down into the valley separating the city from the garden, and up into the garden. It was then it hit me: as Christ prayed alone in the garden, sweating blood, He could see the torches from the Roman and temple mob coming to arrest him for the entire hour or more it took for them to get there, anticipating what was going to happen.
Christ not only bore that tension; crucifixion was the least of His sufferings.  Christ bore the unimaginable, whatever eternity of separation from God (what was six hours for us but perhaps forever for Him), and whatever intense reality of damnation, it would take for all of the sin of the entire world, for all time and in all generations, to be atoned for. He had to take on the sin of the world, but the only way He could have paid for my sin, individually, is if He suffered, individually and fully, for that sin. And, the prize for that suffering was you and me; washed clean by the blood, made reunited sons and daughters with the Father, co-rulers of the New Jerusalem.  As we grieve and mourn in this life, we do so with the hope that for us, this is as bad as it will ever be.
We've been talking about "Growing in Gratefulness" all year, and the best way we can be grateful for Christ's gift for us is to simply accept it. But, the other thing we must always do is one thing that those who came before us were so much better at than we; to contemplate our own mortality.  In this day and age, and up to now, we've been able to avoid considering our mortality, to extend life, to create the illusion we've somehow tamed it. But, death and our own end is real, and for many, eternal separation with God is even more real.
It's good for our soul to remember that life is short, and God is good, and He's saved us from an end we deserved and delivered us into one we could never imagine in our wildest dreams. In this sense, these events which framed the Class of 2020's life to date–whether 9/11 or COVID-19–have brought us into intimate contact with death. It's reminded us that our need for purpose and meaning and hope and truth and a right relationship with our Creator are our deepest needs.
For the Class of 2020, and those who came before and after? They have been born into darkness to be children of light; brought through grief and mourning so they can truly learn to sacrifice and love; and, to rise above their circumstances in order to bring joy and hope out of disappointment and fear.  Because they are their Father's children.