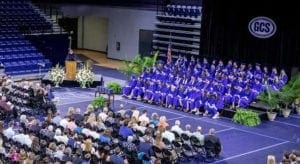 People often ask me whether Grace, or any other private Christian school, is worth it.  That's a fair question.  After all, and as I've said many times before, educating our children is one of the most important things God asks us to do as parents. If by "educating our children" you include training them up to know and love the Lord, it's the most important thing He asks parents to do.
But, Christian school is expensive. I wish it wasn't. I wish we could do it really cheaply.  I've been doing it for nearly 20 years, traveled all over the country, and I've never seen it done well and at high quality in a way that wasn't costly, in a way that didn't require sacrifice on the part of families. I've never known a consultant or expert in Christian education who has told me that quality comes cheap.
Is it worth it, though? For a young parent just beginning this journey, or even a parent halfway through, it's a good and legitimate question. Stephen Covey always counsels leaders to "begin with the end in mind," but when we're talking about educating our kids, and they're young, it's tough to see the end as we begin. It's really difficult to keep it in mind, and we wonder whether the sacrifices I'm making now will be warranted in the end.
There are two groups of people who very rarely tell me that Christian education isn't worth it, and because of these groups, I am encouraged and emboldened to confirm its value. These two groups are alumni and their parents, like GCS graduate Mason Dacus, who just graduated from Cornell University. Mason has just been admitted to Harvard, where he will work on his Masters in Biomedical Engineering.  His mother was sharing with me just the other day how well prepared he was at Grace, and how his preparation here launched him for success at Cornell, which, in turn, prepared him for admission to Harvard.
Or, Christian Bone, who will graduate from the University of Chicago with a bachelor's degree in Comparative Literature and a master's in Computer Science. Christian speaks Russian, German, and Spanish, and plans to work for a company he is interning with located in New York City when he graduates. His Grace classmate, Ryan Haygood, is majoring in Economics, Mathematics, Ethics, Politics and Economics at Yale University, and plans to earn a PhD in Economics. Jeremy Brandt is at the University of Texas School of Law, one of the top ten in the country, studying International Law.  Jaydee Edwards, who graduated the year after Jeremy, is graduating from John Brown University. She has been admitted to graduate school at the University of Pennsylvania and is waiting to hear from Columbia University. Columbia is her first choice because she wants to join her other siblings, several of whom plan to work in the arts and live in New York. Jaydee always thought she wouldn't be smart like her siblings, but her teachers encouraged her that she would be smart in a different way. She'll be working on a master's degree in Environmental Science.
These are only a few of our recent graduates who are only now making the transition to graduate school. Many others aren't Ivy League or top ten-graduate school bound. They may be preparing to serve our nation at one of our service academies. Maybe they're attending great schools like A&M (if you didn't know, we send a ton of kids to A&M, relative to our size), or Baylor, or Wheaton College, or any of the many other out-of-town or out-of-state colleges or universities. Maybe they've chosen to attend some of our local colleges and universities, like TJC or UT Tyler.  Where they attend college or university is governed by many factors, like academic ability and financial resources, and how God has gifted and talented them in certain areas.
No matter where they attend, however, one thing seems to be common to almost all of them. Grace graduates are well-prepared, and they flourish where they land, even relative to their also-qualified classmates. They not only hold their own, but they become leaders and distinguish themselves among very talented classmates.  They are highly prepared for higher education, whatever that higher education looks like for each of them.
If that were the end of it, all that really mattered, all that happened, it still might not be worth it. After all, one might look around and find a really good public school where this level of preparation occurred.  But, one other thing unifies Mason, Christian, Ryan, Jeremy, Jaydee, and their classmates and predecessors and successors, one thing besides thriving at the highest levels of higher education. These young men and women all love Jesus. In places and contexts where you're not supposed to; in an era where statistics say young people are leaving the church in droves, these young graduates love Him, and are talking to their peers about Him, as well.  In colleges and universities around the country, Grace graduates are challenged by their faith, struggle through it, and flourish in it. Certainly not to a person, because God gives us free will, and some choose differently, but in numbers and depth and maturity that far exceed the national average, where younger generations are leaving the faith in large numbers. That national trend simply has not been the case among Grace graduates on the whole, and by His grace God has used this school, these families, and this community to prepare and equip children who love and serve Him well in the next generation.
So, is it worth it? That's certainly for everyone to decide. Yet, God has been gracious to show me His hand and His work in our alumni where I can join their parents in saying yes and amen.