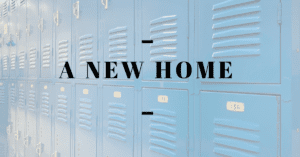 In the years I've been the head of school at Grace, there's one phenomenon that strikes me as somewhat shocking at the beginning of every school year: the difference between an incoming sixth grader and an outgoing eighth grader. Those of you who have had children those ages know what I mean. There is perhaps no greater degree of growth, social maturity, and self-awareness that happens at any point in time during kids' school-age years as sixth to eighth grade.  For this reason, many schools around the country have begun grouping students of this age in more creative and intuitive ways, ways that are even more age-appropriate (most recently, the Chapel Hill school district has announced a new age-specific grouping of students, different from traditional 1st – 5th, 6th – 8th, and 9th – 12th, and I predict more will follow).
For years, the administrative team at Grace has had an internal dream, one for which we have been praying: the opportunity to group preadolescent and early adolescent students in grade clusters more befitting of their phases of academic, physical, and social development. Several practical and space considerations made this longing an elusive one for us. Our strategic facilities plan always made allowances for this planned grouping, waiting for the day it would come.
Now, with God providing the corner property at the University Boulevard campus, which now houses Grace Community Classical School, we have the opportunity to realize the dream of grouping our students in more effective ways. Beginning next year, in addition to the classical school, the newly-remodeled building will house 5th and 6th grade. Seventh and 8th grade will remain in the current Grace Junior High building.
This new arrangement will allow Grace to provide the age-appropriate grouping of 5th graders with 6th graders, and 7th and 8th grade students. The four grades will be in two separate buildings, but joined together as Grace Middle School. Because 5th and 6th grade students will be together for the first time in our school, this new arrangement will give us the opportunity to create a joint curriculum specifically tailored for students of that age grouping. Grace will also design a fine arts program unique to 5th and 6th grade, giving students an opportunity to sample each fine art offered at Grace, and to be better equipped to select the fine arts they enjoy for the remainder of their studies at Grace.
Grace athletics does not begin until 7th grade. Combining 5th and 6th grades also allows the school to create an intramural program designed for these grades. Students will have the opportunity to select from four or five sports offered throughout the year, occasions to work on their athletic skillsets and to enjoy the experience and spiritual lessons that team sports inevitably bring.
Yet another benefit to this move is that all elementary and middle school grades will be advantaged by additional space. Moving 5th grade out of the elementary will ultimately create additional STEM space adjacent to the current elementary media center, space to facilitate even more STEM integration into the elementary curriculum. The move will also allow for the upstairs rooms to be converted to additional academic success space, and for the smaller 2nd and 3rd grade classrooms on that floor, as well as the portable, to be housed inside in larger classrooms. Similarly, 7th and 8th grades will see science moved back into the junior high building from the classical school, together with additional academic success space.  Teachers in the middle school will have more gathering and work spaces, allowing them to collaborate better despite being in two buildings.
This new arrangement will lead us through the several years until the building of our new high school, at which point the entire middle school will be moved to the current high school classrooms. Even then, however, we will take care to continue to group and gather the middle school students in these age-appropriate ways, and continue to provide curricular and co-curricular programs designed with each age group in mind.
These next few years will be the most innovative and exciting in the history of our school, as we create new opportunities and experiences for all our students to live, to grow, to flourish, and to know and love Jesus Christ. Thank you for joining us on the journey.