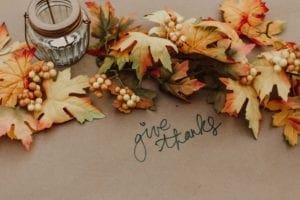 When the Lord revealed to us that the theme for this year should be "Growing in Gratefulness," I knew that it would be tailor made for this season of the year.   As I think about Thanksgiving, I remember about how we've said over and over again this year that gratefulness is a spiritual discipline, meant to be cultivated and developed in our hearts, rather than just a feeling we have.  Only the most entitled among us fail to feel grateful to the Lord when objectively good things are happening: when work seems to be going smoothly, the kids are happy and healthy, and our marriage is in a good spot. But, what about when any of those things start being disrupted or upset, or when looking more deeply into those things we just take for granted every day? That's when we actually have the opportunity to be grateful people.
I was thinking about the latter when I was in the hospital the other day with my daughter. She had a staph infection in her arm, a rather nasty one that kept us there four nights. As we sat there at her bedside, praying for her, I realized how deeply grateful I am for modern medicine, and how I take it for granted. I projected myself back as a frontier father, living just 100 years ago or so, staring down at my daughter and contemplating cutting her arm off myself, without anesthesia, in what might or might not have been a vain attempt to save her life. I'm grateful that's not something I even have to contemplate. There are all kinds of things like that: cars and airplanes, cellphones and electric lights, washing machines and showers–of which I'm barely conscious, things that just work and are as much a part of my life as the air I breathe, but which are amazing, spectacular gifts from the Lord, and for which, with just a little reflection, I have an opportunity to be grateful.
There have been a number of wonderful things about this year, things I'll always look back on with fondness and excitement. But, this year has had its challenges, as well. And, I think "Growing in Gratefulness" means embracing all of those things as gifts from the Lord for His glory and our good.
After doing life these 52 years, I'm convinced God doesn't much care about our external, worldly circumstances. We happen to live in a country that still has more religious freedom and prosperity than any other country in world history. But, that doesn't mean God loves you and me more than he loves His people in North Korea whose stories I saw in the International Day of Prayer video earlier this month. He doesn't love us and hate them, or want to give us good things and give them bad things.  God always plays the long game. He's preparing us and them to be kings and queens of the New Jerusalem.
I was reading The Lion, the Witch, and the Wardrobe to the Classical School kids at lunch the other day, and it reminded me that we're like Peter and Edmund and Susan and Lucy, preparing for Cair Pareval.  We will rule alongside Aslan in that Kingdom. But, we're not yet ready. We have to be prepared for that eternal mission.  This life is always about, as Russell Moore says, "an internship for the eschaton."  All of it has meaning, the objectively good and the objectively difficult or painful, because God uses it all to mold and shape and grow us into those kings and queens.  And so, what is circumstantially good or bad to us doesn't really matter that much to God. Although He doesn't enjoy seeing His children suffer, He knows that there is no other way to prepare us for that brilliant, eternal future, and to build the strength and character we need to get there.  So, He often stays His hand.
I am grateful for all of you who live, and work, and play in this school community with me. I'm grateful for the joyful, exciting things we enjoy together, and for the pain and challenging work we endure together, even the pain we sometimes find in each other.  Paul's words in Philippians 1 reverberate in my ears as I think about you this Thanksgiving: "I thank my God in all my remembrance of you, always in every prayer of mine for you all making my prayer with joy,  because of your partnership in the gospel from the first day until now.  And I am sure of this, that he who began a good work in you will bring it to completion at the day of Jesus Christ."
I love you, and I'm deeply thankful for you. Thank you for walking your family on this journey with us. Thank you for teaching your kids steadfast joy and gratefulness through goodness and struggle. God continues to do amazing things among us and through us, things for which I'm really excited.
Would you spend some time over Thanksgiving, whether after your meal on Thursday or some other time, reflecting with your family how God used both things you ordinarily take for granted and challenges in your lives this year to mold and shape you into His people? Doing so would do as much to form your children into grateful, generous people than anything else you can do.