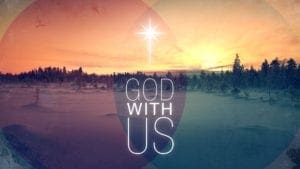 Last Sunday at church, we were singing one of my favorite Christmas songs, "O Come Emmanuel." That hymn isn't like "Jingle Bells," or even "Hark the Herald Angels Sing." It's written in minor chords; a song of mourning, of longing, of crying out to God:
O come, O come, Emmanuel
And ransom captive Israel
That mourns in lonely exile here
Until the Son of God appear
Rejoice, rejoice, Emmanuel
Shall come to thee, O Israel
The hymn is evocative of Israel's longing for the coming of her King, the one who would free them of their captivity and release them from exile. When we're saved by the blood of Jesus Christ, we become grafted onto the vine of Israel as God's chosen.  As I listened to the words of this beautiful, sad, yet hopeful hymn, I reflected on how much more I identify with Israel before Christ came.  Advent is a season of longing and hope.
When watching President Bush eulogized this week, admiring the man and leader he was and comparing it to what often passes for leadership in this age, I feel world-weary. The earth seems old to me, crying out for rebirth. I find myself empathizing with ancient Israel; in exile, under captivity, craving the freedom that the Messiah would bring.
As head of school, I often act as a type of pastor to this school community.  Over the past 15 years, I've watched people love and care for each other deeply; however, it's usually in the context of pain, of brokenness, and of the darkness and fallenness that living in a sin-distorted world has made apparent.  You don't have to be a head of school to experience those things. You just have to live for a while.
The hymn calls Israel to rejoice in the midst of its longing, because Emmanuel, "God with Us", is coming. For us, in our era, He has already come. God is with Us, dwelling among us, becoming flesh, becoming man, at one point in time, and forever. Jesus brings comfort and joy and hope in our life today. He brings light to our darkness, and gives us abundant life now– wholeness in our relationships with others, secure in our place in this world, and rightness and restoration in our relationship with Him.
But, a great deal of the hope we have is reserved for a coming day. I have a good friend who has raised his kids alongside mine. He shared with me last week that his father was recently diagnosed with pancreatic cancer, life-shattering news for anyone. Far from being deeply broken and tragically, emotionally destitute, however, my friend and his father were comforted by a compelling image, one he later shared with me. My friend told his dad, "If we were traveling to Tahiti, and you were taking an earlier flight, I wouldn't be sad about it. I'd be glad you got to enjoy that paradise before I arrived, and I'd be excited and anticipating the day I would get to be with you. That's how I feel about the fact you get to be with Jesus before I do, Dad. Except it's WAY better than Tahiti."
I love that. That beautiful hope is made possible by the Incarnation, the Christmas story. And, that story is the down payment of a coming day, a day when Jesus will return again and make everything right:
O come, Thou Day-Spring
Come and cheer
Our spirits by Thine advent here
Disperse the gloomy clouds of night
And death's dark shadows put to flight
Rejoice, rejoice, Emmanuel
Shall come to thee, O Israel
I find myself longing deeply, yearning for that day. The beauty of living in this "now, not yet" of history, of celebrating Christmas together around the world, is we get to see that God made good on His promise to bring a Savior–through the power and ministry of Jesus we celebrate this season, "death's dark shadows put to flight." Yet, we also mourn along with our brothers and sisters from millennia ago at the state of this present world, this time of our exile, and yearn for the promise of a new, coming, greater Kingdom.
My prayer is that you'll discover all the hope and all the longing this season has to offer.