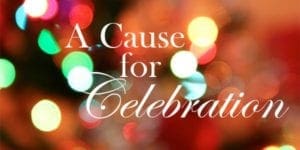 As we enter into the Christmas season and the end to another semester at Grace Community, I stand in awe of God's work through our school family. As Grace's Alumni Director, I'm constantly immersed in the stories of Grace families past and present, where I not only witness the faithfulness of God's sovereignty, but also how one family's story, combined with the hundreds before them, has produced a beautiful and inspiring testament of faith. As each of us plays a part in the story of Grace Community School, we are also participants in the continued chronicle of the first Christmas story, the birth of Jesus Christ.
Each year, the story of Christ's birth reignites a humbling appreciation and reverence for the unending, all-consuming grace of God. Rick Warren defines grace well as this: "Grace is God's love in action. Grace is when God freely gives you what you need even though you don't deserve it and can never repay him. Grace is when God solves your greatest problem before you even know it's a problem. Grace is the face of God when He looks at your faults, failures, or fears. Grace is God's Riches At Christ's Expense." And this grace is manifested in the story that changed the world forevermore: "A Savior has been born to you; he is Christ the Lord!" (Luke 2:11).
We have a reason for celebration this Christmas because God has paved the way for our salvation through His Son's birth, death, and resurrection. We commemorate the beginning because we anticipate the ending of our soul's rest in His eternal presence. Edward Osborne said, "If we prepare well for Christmas, and keep Christmas well when it comes, I think we shall prepare well and be ready to meet Jesus Christ when he comes again."
This season, I pray that amidst the toys, tinsel, cards, carols, and cheerful chaos, you feel and experience the Grace of the One who has given you the ultimate gift—a gift meant to be accepted and shared all at once.
As the chorus of one of my favorite Christmas songs reads:
"How many kings stepped down from their thrones?
How many lords have abandoned their homes?
How many greats have become the least for me?
And how many gods have poured out their hearts
To romance a world that is torn all apart
How many fathers gave up their sons for me?
Only one did that for me."
And for you. How will you respond this Christmas?
Guest Writer Sydney Sumpter, Director of Alumni Relations, at Grace Community School