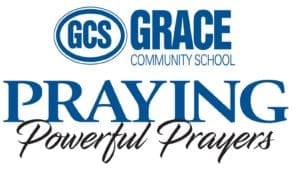 I love the beginning of school, with all its excitement and enthusiasm. As I was at junior high locker day the other day, a mom shared with me about her recently-graduated daughter, now living in a far-away big city.  As she watched her daughter beginning to engage new friends who don't know the Lord in an empathetic, understanding, caring, and meaningful way, both the daughter and her mom expressed gratefulness for Grace, and how it equipped her to live out and share her faith winsomely and well.
I hear these stories all the time, and I know how they feel. I saw it in my own home this summer, watching my girls deepen their trust in the Lord through various ministries, loving others not like them even when it was really, really hard to do so. Those are the stories that feed my soul: your children and my children, borne on the power of our prayers.  Powerful prayer is the foundation of who we are at Grace.
And so, as I spent time alone with the Lord this summer, asking Him what should be the theme that unifies us as a school this year, God gave me "Praying Powerful Prayers." Which makes perfect sense.
Praying powerful prayers is the birthright of the born again. Dallas Willard, who always stretches my brain, observed that different life forms know different kinds of life. A cabbage, for existence, knows sunlight, and soil, and rain, all a part of life, but knows nothing about playing with a ball of string.  A kitten knows all those things, and playing with string, but kittens don't know there's a whole life of language out there, of words and numbers.  We human beings know life in all these forms. But, we once knew even more life than most of us now do because we were once alive with God, living in conversational relationship with our Creator, daily renewed.  When we mistrusted God and disobeyed Him, we became cut off to that life, dead to it, as much as a cat is dead to arithmetic.
Through the new life we have in Jesus, however, Willard says we are born into a new kind of life, one you and I didn't have before, one in which we become aware of God and enter into His spiritual kingdom. Now we're able to talk to God, to pray, to interact with Him, and have a whole new life; we're like cats that can now perform complex equations and write poetry. This is paradigm-shattering, and the possibilities are endless. We can pray powerful prayers­­-why would we not do all we can to take advantage of all our new life has to offer?
I can't think of anything more true to who we have been as a school, and what got us here, than prayer. I can't think of anything more important to what we are becoming, either. As I've said before, we are now a community engaged in raising up exiles, Daniels and Esthers in this land of our captivity, very different from the country in which we were raised ("Raising Exiles"). In calling and training our kids to be righteous, passionate for the Lord, culturally intelligent and engaged, and the very best they can be at what God has called them to do, nothing is more important in equipping them for their work than praying powerful prayers over them.  Raising kids in a hard world is hard work, so we need powerful prayers.
As many of you know, God has called this school to a new vision ("A New Vision"). God is calling us to be a school that serves and loves all the families and children Jesus loves, whether academically, culturally, or economically diverse; whether parents want to homeschool some of the time and need a school community partner, as in our university-model classical school; whether international families want their children to have a Christian education in an American context, as in our international program; or, soon, whether a family with a special needs child needs a partner in leading that child to know the Lord and learn how to bring forth all they have for God's glory, too. That is a big, God-sized vision, and there is nothing more important to seeing it become reality than to pray powerful prayers. We need facilities, and people, and resources to realize those things, and we need God to provide them. So we need God's people praying powerful prayers.
Over the next few weeks, I'll be sharing some things God taught me during this extraordinary summer about praying powerful prayers. And, we'll be asking all of you to join us in celebrating this new life we've been given by going before our Father together and asking Him to move mightily through our school and its families. It will be amazing to see what God is going to do, and it's going to be a great year.