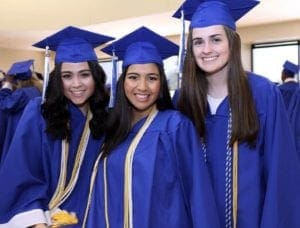 On Saturday, May 19th, Grace graduated the Class of 2018 in its commencement exercises. The following is my final charge to our graduates, and my final blog for the school year:
It's my privilege to be the last voice you hear as you leave Grace, to give you your commencement charge.
It has been an honor and a blessing to have had a part in raising you. Many, many of you I have known since you were here in junior kindergarten. Some of you were our neighbors, and you've done life with my children, and grown up in my home.  Some of the women in this class are the most transcendent group of female athletes I've seen in my 15 years at Grace, and I'll never forget watching you win state championships. Whether young women or men, I've loved watching you grow up, seeing you become some of the finest young Christian people we've ever graduated from this school. I love you, and I will miss you deeply.
And, I want to thank your moms and dads for the joy, the gift, of getting to raise our kids together, alongside you. You have been a constant source of love and encouragement for Ashley and me. You have been our friends, our co-laborers, and we are grateful.  
And, now, with my charge to you.  First, some simple and fatherly advice from the head of your school, this place that educated you these 14 years.  I'll share with you what I shared with Emma's class, with a few additions brought on by resume missteps I have seen since then from prospective hires, prospective teachers and others that I want to pass on to you:
Always make sure you correctly use an apostrophe with the letter "s." "Irregardless" is not a word. You don't "revert back," unless you're not reverting anywhere. The saying is not "I could care less." It is: "I could NOT care less"; never use the word "like" in a job interview unless you're making a comparison or expressing an affinity for something. Don't use the word "literally," and then speak figuratively. There is no "x" in the word "especially."  "There," "Their", and "They're" are three different words, with three different meanings. Please use and spell them correctly. And, finally, while we're on the topic of spelling: never say on your resume that you were summa cum laude in school unless you spell it correctly. "Summa" has two "m's," with an "e" on the end of "laude."
By the time you graduate from college, your family will have spent between $150K and a quarter of a million dollars on your education. Please do them the favor of using it.
Your classmate, Lucy Nickel, asked one of her friends the other day, "Why is it that when Dr. Ferguson speaks at graduation, he always talks about dead people?" She was referring to the fact I always seem to mention Grace graduates who are no longer with us. The answer to that question, sweet love, is that when I see you sitting there, I don't just see you. I see 15 years of those who came before you, far too many of whom I've buried.  Many for whom the rest of their lives was five years.
And so, as you walk out of here and I have one last chance to talk to you, I will always use that chance to beg those of you who don't yet have a relationship to Jesus Christ to call out to Him. As I told you a couple of weeks ago, you have everything you need to live the good life He calls you to.
As you head off to college, remember this. People always talk about your faith surviving in college, not losing your faith in college. That is NOT your calling. You are not called to simply have your faith survive college. You are on mission as sons and daughters of the living God to be His words of life, to be His hands and feet to people who desperately need Him. You have been equipped to not only endure, but to be warriors for the Kingdom in a world that desperately needs you. You and your brothers and sisters are called to throw yourselves at the gates of Hell in this world, and God says they will not hold against you.  I can promise you that you will be successful in that if you will enter college and the rest of your life with three things. These three things are proven through the ages to be what you need to sustain your faith, and to have it thrive and flourish so you can be what you've been prepared to be.
The first thing you already have.  A context. Context- the circumstances surrounding you- is everything.  In your case, the context is a worldview, an integrated view of life. Your faith in Jesus Christ, and your understanding of the world around you in light of that faith, is something most people don't have. They live life in compartments- work life, home life, hobby life, family life. Their faith and their ministry is separate from everything else they do.  Most have no answer, or don't have a concrete or well thought out answer, to the questions that matter most in life: Who am I? What is the purpose in life? Why do I exist?
It is not so with you. You have been given a great gift by your parents, your church, and this school- a clear, coherent answer to who you are, what is your purpose. You have been shown that your faith and ministry weaves through your life, and work, and family, and everything you do as a whole. Your ministry is your life. It is your work. It is your relationships. And the way you preserve and maintain the beauty and purity of that gift, that way of seeing life as it really is, and not getting lost like everyone else, are the spiritual disciplines. Time with your Abba, in prayer, and in His Word.
The second thing you need is someone to model godly character– a mentor. When you get to college, find a mentor: a camp counselor, an older student, a professor, a pastor at your church there, someone who loves Jesus and who lives out this context you have been given. In I Cor. 1:11, Paul says, "be imitators of me, as I imitate Christ." Find someone you can imitate, who is living out the Christian life in your context well. Do life with them, ask them questions. The right mentor will welcome that. Find them.
The final thing you need is to find a community. Find your people; find a church. You need people to do life with, to live out this context together, to hold you accountable, to help your practice your faith and Christian community. Have friends who don't know Jesus. Please, make tons of them. But, always operate from a home base, a community of people who do love Him, and who are committed to Him and you.
Nurture this faith, this context you've been given. Allow it to flourish.  Develop your character by finding a mentor. And, live in community with other believers. Context. Character. Community.  And I promise you: you will live life in Jesus Christ to the fullest. That's my charge to you, and my deepest hope and prayer for you.