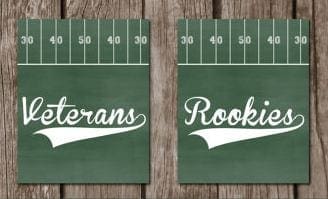 There are two kinds of moms I love at Grace (dads, too, but I'm focusing on the mamas today):  Rookies and Veterans.  I've learned that both are invaluable. They bring joy to my life, and each has something to teach the other.
I came to this realization a couple weeks ago.  My wife attended a moms' coffee for a group of Rookies, moms of junior kindergartners in one of our classes.  These junior kindergarten moms are rock stars. They have organized dinners and opportunities to get together; they are embracing the community our school offers, and they are enjoying their experience much more because of it.  One of the Rookie moms, the organizer, invited my wife to attend.
My wife, the quintessential Veteran, with two GCS alums out the door and one sophomore left, had a blast.  That Friday, she saw what I've experienced with joy time and time again with joy as the years go by: the power of a Rookie mom. Rookies see our school with fresh eyes. They are overwhelmed by a school that teaches Jesus to their kids. They often come to tears when they hear God's Word, maybe for the first time, on the lips of their children. They are excited to see teachers who love the Lord, and who love their children, and who actually want to partner with them in raising their kids to walk with the Lord in this first step of many. They see the beauty of new friendships with other parents who are trying to do the same thing, and they glimpse the beginnings of a vision of community that will last, for many, 15 years and beyond.
Rookies have good days and bad days, like all of us, but being around them is good for me. I tell people it's like drinking from a fresh well, renewing my vision and excitement in our school's mission. Rookies are awesome.
Veterans are different. The same day my wife attended the Rookie mom coffee, we attended an out-of-town Grace football game. We sat surrounded by Veterans. Veterans don't get too excited about much of anything- the highs don't overwhelm them, and the lows don't devastate them. They've had plenty of conflict with school teachers, administrators, and each other.  The new has worn off the school. But, Veterans are special in the way a good marriage gets even better 20 years in. Veterans have been forgiven, and extended forgiveness. Veterans see that our school isn't a commercial transaction, like a dry cleaner, that when one doesn't get what they want exactly the way they want it, they move to the next one down the street (assuming one should even do that with a dry cleaner!). Instead, they see it as a relationship, their children's education as a transformational process, one to be worked through and persevered, choosing joy and a good sense of humor.
Veterans love our school for what it is, and sometimes in spite of what it is.  Schools are institutions, made up of people. Veterans realize that there aren't perfect schools because there aren't perfect people, and they've decided to partner with this one and to build a community within it. Veterans have often given a decade or more of their lives to make this school one of the greatest in the country, a place where God is glorified, and children are equipped to lead the body of Christ into the future.
Veterans, like me, get tired. Sometimes we get jaded. We've seen much, traveled far, and been disappointed by life and the fact that we can't make others do what we want them to do all the time.  We desperately need to be reminded of what a beautiful place this truly is, that every good and perfect gift (and there are many) is from above, coming down from the Father of lights, who never changes. (James 1:17). We need to take a page from the Rookie playbook, to see our amazing school with fresh eyes every once in a while, and to drink from the fresh well and to renew our vision and sense of mission.
At some point, Rookies will have their images shattered. A year of academic struggle, conflict with a teacher, student, or fellow parent, or family struggle that spills over to the school will challenge their sense of mission and purpose in the school. In those moments, they'll need to be reminded that school isn't a transactional experience, but a transformational one.  Rookies can learn from Veterans that a school community is relational, and like all great relationships require perseverance, conflict resolution, and sacrificial love.  When our kids see us exemplify all these things, and it becomes a part of who they are, even as it's changing us.
I love my Rookies and my Veterans. They are the rocket fuel of this school. They make it what it is, and we all need each other.