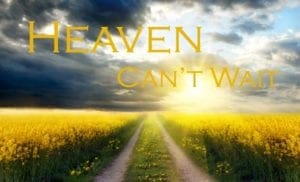 In his excellent book on the redemptive use of power, Playing God, Andy Crouch notes there are four chapters of the Bible that very few of us read and understand, the failure of which clouds our whole perspective on life and on those around us. The first is the first two chapters of Genesis, because in them we learn who we are. The second is the last two chapters of Revelation, because in them we learn what we will be.
What do you know about your eternal destiny? About Heaven and the New Jerusalem? If thinking about these things elicits notions of floating around as incorporeal spirits, or not doing much in the way of meaningful activity, or, even worse, wearing a diaper and sitting on a cloud, you've got a jacked up perspective on eternity.  If you're a Christian, doesn't it make sense to at least have some understanding of what you're banking on, this idea that gets you through the pain and heartache of this life? If this life is really the "internship for the eschaton," the end of days, as Russell Moore says, shouldn't we be living with the end in mind?
And, here are a few things those last two chapters teach us, some of which you may or may not already know:
Your eternity is physical.  You are not destined to roam around eternity like a ghost, a disembodied spirit, a sanctified Jacob Marley. Even now, there is at least one physical being in Heaven, and it's Jesus.  Based upon descriptions of the current Heaven in Revelation, of thrones and seas and wings and fingers and saints wearing robes, it's more than possible, and probable, that the rest of the current Heaven is physical, too.  Which means that we are not Gnostics: how we treat our bodies matters to God. They are as much a part of who we are as our spirits. Even though the one we have now will fail us and die, while we inhabit it, it is holy as are we. We have to treat it well, care for it, not overfeed it or abuse it with substances, not be sexually immoral with it or use it to use other people. If we have been set apart by Christ's blood, all of us is set apart, not just our spirits.  We should never worship our bodies, because God is our god. But, how we care for our bodies is as much an act of worship of God as prayer and Bible study.
Your eternity is personal. Everything you're doing right now matters.  If you are doing your work every day as an act of worship of the Lord, you are a part of unfolding Creation. If you read the last two chapters of Revelation, it doesn't end in a garden, like the Bible began. It ends in a city, the full manifestation of the work of God, working through the agency of man, then fully redeemed by God. This means nothing you are doing right now is in vain, if you do if heartily and unto the Lord. Your work has calling, meaning and purpose. It all matters.
It also means your suffering matters. Most of us, in the depths of suffering, cannot "get up on the balcony" and see that what we're going through matters. It's really hard to do. But, in some way, we will need to be compassionate, persevering, truly loving people in eternity. And, given that we're born into sin, warring with our flesh, the only way we can become all those things is to be brought through the trials and turmoil of this life- to taste and see that the Lord is good in the midst of our suffering, to have selfishness and pride burned off in the fire of difficulty.  Our flesh is way too likely to take credit when things are going well. When we see glimpses of beauty and goodness and mercy in the ashes, then we truly see the face of God. That's when our faith grows, and all those things we'll need for eternity (and now) really come to root.
Finally, eternity is inter-relational. All of us who truly know Christ as Lord will be there. Yes, even that guy- the one who doesn't just have the decency to simply say "fine" when you ask, "how's it going?" but actually tells you (and it's never good).  We will all be together. The good news is we'll be redeemed, and free from all the things that annoy us about each other, and all the things that annoy us about you, too. We will really love being together, and be energized by each other, even those of you who don't really like people that much. The sobering news is that, therefore, people matter way more to God than do tasks or stuff, and most of us spend way too much time pursuing one or both of those other things.  Living with eternity in mind means saying "yes" when people say, "got a minute?"  It means carving more margin into your day to lean into people. It means realizing that your legacy, the only thing that will be left after you go to the temporary Heaven, and then on to the New Jerusalem, is what you poured into other people.
Over the Easter holidays, as you celebrate the Resurrection, I encourage you to not only read the gospel accounts of Christ's passion and return from the dead, but of His coming again at the end of Revelation. The Cross and Resurrection was the down payment, the gift that secured your eternity. The Second Coming, and the establishment of the New Jerusalem, is the full realization of that gift.  And, knowing that gift is coming means everything to how you live now.