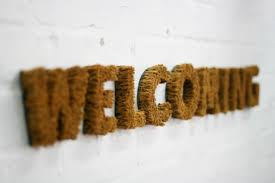 "Sojourner" is one of those biblical words we don't use much anymore in modern language, like "begotten," or "abide."  But, "sojourner" has a very specific meaning that's hard to capture with other terms. He or she is a traveler from another land, staying in our land for an often indefinite period of time. A guest: sometimes welcome, sometimes not.
The sojourner has a special place in God's heart.  Perhaps because our fleshly hearts are often impatient and inhospitable, hearts where visitors, like relatives and old fish, start to stink to us after 48 hours, God admonishes us throughout Scripture, to care for the sojourner (Ex.22:21; Ex. 23:9; Lev. 19:10; Num. 9:14).
If you've ever been the "foreigner," perhaps on mission or vacation, you know how it feels. In many cases, you don't speak the language. People are mostly polite, but you feel they are frustrated with you as you struggle to communicate. You don't know the customs, so you often commit faux pas after faux pas, feeling like an awkward mess at best, or an offensive oaf at worst. You often wonder if someone is taking advantage of you, if you just paid five times what the locals pay. If you're really unfortunate, you may wander into the wrong part of town or the country, your lack of geographical understanding leading you astray. Then, being a sojourner can be downright dangerous.
God has a deep concern for the marginalized, the poor, the suffering, and those who are strangers in a strange land–people, like us, children of the King of a faraway land exiled to a place where the people don't think or act like us, or value what we value. God calls us to care for the sojourner, because we are sojourners, and He calls us to love others as ourselves. He also knows that hospitality creates opportunity, as people who are loved and cared for are receptive to listen to the story of the God who loves and cares for them.
This is why Grace has developed a vision for welcoming international students into our school.  Parents from all over the world are sending their students to America, still recognized as a highly desirable alternative for their children's education. For many of these parents, they desire their children to be exposed to the English language and American culture, and given an opportunity to become more well-rounded citizens of the world in an increasingly globalized economy.
This desire for a better future for their children creates tremendous opportunities for our school and our ministry. First, it gives us a chance to live obediently to God and to love these sojourner-students in our midst in ways that profoundly reflect the power of the gospel. I have seen how this school family loves first-hand, and few do so better.  Second,  it gives our school family opportunities to engage students from other lands with the gospel in a very intensive way, with the full approval and knowledge of their families.  As we speak and love intentionally, and pray for the Holy Spirit to move in the hearts of these kids, as all of our kids, we trust God to use it to transform their lives, equipping them to return to their countries, or to other places in the U.S., carrying the gospel of Christ within them.
What's more, the sojourner-students bring their cultural perspectives, their language, their presuppositions and ways of thinking, to interact with our Texas kids. If we love our sojourners well, humbly questioning and watching and learning from them, we Texans will be culturally broadened, better equipped to engage the world for Christ, and more comfortable with developing relationships with "others," i.e., those not like us (whoever "us" happens to be).
Like having relatives in your home, loving the sojourner well can be awkward and messy. Anytime we love people in a cross-contextual way, it isn't clean. But, let's face it- living in any kind of community is awkward and messy.  But, it's also thrilling, and enriching, and helps us develop the mind and heart of God. In the case of the sojourner, it serves as a constant living reminder that this is who we are, and who we are called to be.