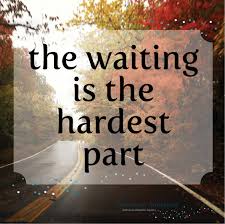 Before I came to Grace, I was no stranger to waiting.  All my life, or at least from the time I was nine, I wanted to be a lawyer (I know, how weird for a nine-year-old, right? What's wrong with a fireman?). After I actually worked my way through law school, through clerkship, and into a practice, about two years in, I realized it was not for me. Whatever gifting made for a good lawyer, I had the other gifts.  I began praying that God would reveal some other calling for me. Each time I prayed, God responded with "Wait. Keep being faithful where you are now, until I lead you on."  That lasted for eight years. Eight years of waking up every morning with a knot in my stomach, praying for something else. And, God said, "wait", until He brought me to Grace. Eight years later (bet you're thinking how fun it was to have been my wife during those eight years, huh?).
As interminable as that wait seemed, the Jews had it worse. They waited for Messiah through 400 years, with no word from God. God promised through Malachi that Elijah would come and prepare the way of the Lord. Then for 400 long years, God did not speak.  There was silence from heaven.
That's not to say nothing was happening. For 400 years, Israel was ravaged. Occupied by the Persians, then conquered by the Greeks, stripping their way of life and desecrating their Temple. They were conquered again in 63 B.C. by Pompey and the Romans.  Can you imagine? Lest we think 21st-century America is as bad as it gets, Israel was modern-day Serbia or Afghanistan–war-torn, repeatedly occupied, a hodge-podge of cultures, fighting for its own identity. These were the children of Abraham, people of the Promise.  Except, it seemed like the Promise had long since died. No indwelling of the Holy Spirit then, God seemed to be distant, unanswering. Many fell away, just stopped talking to God, thinking He no longer heard their cry.
Except for people like Zechariah and Elizabeth, and Joseph and Mary, and Anna and Simeon.  Through these humble, waiting, relentlessly faithful people, God transformed the world, bringing about you and me.
Waiting stinks. It's just hard. No two ways about it. Maybe you're praying for someone you love to be healed, like I have been for months right now. Maybe you're praying ultimate healing for someone, that God would take him or her home, and they just keep hanging on. Maybe you're like I was, seeking out God's call on your life, and you're not getting clear direction or answers. You've prayed, searched out God's Word, sought wise counsel, and still, nothing. Or, God's Word is "maintain course and speed, right where you are."
There are some things about waiting on the Lord that are almost universally true. First, God is never on your timetable. When you think back on your life, when has He ever given you what you asked the moment you asked for it? Unless you were a small child or a young Christian, and He was building your faith, the answer was almost always, "never."  And, yet, when you look back on it, the timing was always perfect, wasn't it? It was just when it needed to be, even though you didn't know it needed to be then at the time. God's timing is always perfect; our ability to predict when that is pretty much stinks.
Second, while we're waiting on God's timetable, it's almost always more about aligning our hearts with God's desires than getting what we want. Again, when you look back on your life, wasn't one of the things that made God's timing perfect is that you needed the time you were waiting to develop patience, or forbearance, or intimacy with the Lord, or the ability to see life through the lens of the Spirit, rather than your own?  We never really just wait; God is always at work while we wait, especially when we wait expectedly and prayerfully.
Finally, once God does answer prayer, or does show up, it's almost never exactly, or maybe even close, to what we expected.  When I look at my own life, almost nothing about it–what I'm doing for a living, who I married, my kids, my friends, my circumstances–is the way I imagined or even prayed for it.  But, I don't want my old plan. I didn't have a clue.  I'm so glad God gave me what He knew I needed, rather than what I prayed.  Whew!
Israel waited for a Messiah for 400 years, way longer than they expected. But, it was perfect timing for an empire to be in place that would feature crucifixion as capital punishment, make Jerusalem an international city, and cover the known world, so that the gospel could be transmitted throughout easily, at least by the standards of that day. God didn't answer with an earthly king, but with a nobody from nowhere, who lived a homeless life, was executed as a common criminal, and was buried as a pauper. And, in the process, that unanswered prayer conquered death, broke Satan's back, rescued billions of us from the dead, and made you adopted sons and daughters of God. Not bad.
It's like my grandmom used to say: "Good things come to those who wait." Even when we don't really know what it is we're waiting for.