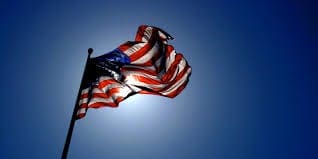 Even if "your" candidate won the election, you're probably wondering what just happened, maybe even feeling only slightly less apprehensive than before. This election was extraordinary. All elections are significant, but this one seems more so than others. It seems to be both a reflection of what we've become, and a harbinger of what will be.
If it's true that we get the leaders we, as a people, deserve, then what does this say about us? Apparently, we have truly become bad followers. We expect immediate gratification and no compromise; we want our leaders to be perfect, expect perfection from them, and yet are far too tolerant when they truly act reprehensibly. Our lack of deep education and historical perspective render us too susceptible to the same old promises, the same false hopes. Our idols are comfort, and being in control, and we follow anyone who can promise those things. We get what we deserve.
Or, do we? God's richness, His grace is so deep and profound that it meets us even here, maybe especially here. I was reading Ezekiel 16 the other night, and even in the midst of Israel's unfaithfulness, idolatry that God compares to whoring (a really, really difficult passage to read) God promises both discipline and mercy: I will establish my covenant with you, and you shall know I am the Lord, that you may remember and never be confounded, and never open your mouth again because of your shame, when I atone for you for all that you have done, declares the Lord God.
God is merciful; He saves us from ourselves, when we cry out to Him. Even now, He is setting aside His remnant, His people, for His service. We are part of that remnant.
We are never the whole, and there aren't more or less of us than there were yesterday, before the election. America didn't become more Christian overnight. If you love Jesus, you're still quirky and different, and a minority.
And, that's okay: never be afraid to be the remnant. Because, though challenged and persecuted, the remnant transformed Western civilization, brought the saving name of Jesus Christ to the four corners of the globe; provided a standard of care and charity that resulted in modern health care and hospitals; built the foundation for modern education, rooted originally in a desire that all could read God's Word; by God's grace, the remnant created a system of justice balancing righteousness and mercy; developed an ethos of humanity that resulted in the end of that nationalized slave trade in the West, and that battles human trafficking even now. That remnant has largely turned the tide on the incidence of abortion in the U.S., despite being continuously legal, through caring for both mothers and babies; the remnant gave us a welfare system and a sense of charity in the West that, while deeply flawed and distorted as all human institutions are, has cared for the poor comparably more and better than at any time in human history. And, the remnant, and the gospel of Jesus Christ which is its hope and meaning and reason for being, gave us some of the fundamental concepts of life and liberty and human nature, and restraint of tyranny upon which our Founding Fathers built this nation which has been a broken, distorted, yet shining beacon to the world for centuries.
The remnant is God's mighty hand for grace, truth, love, hope, and the saving message of Christ. That is no less true than it was yesterday, or than it has been for millennia. You are no less a part of it than you have been at any point since you've known Him. The remnant is no more or no less powerful than it has been at any point in history. It is all powerful in its potentiality, because it is empowered by the Spirit of God. That is the power living in you, calling us to be on mission, and promising greater joy and reward than whatever pitiful earthly power and privilege you gave up to get it.
Our messiah was not elected last night. It would be the wrong message to hope for or expect anything but (Hopefully? Possibly?) good earthly governance at best. But, a clear message from this election is that there are a great number of desperately hurting people out there, angry, scared, disenfranchised, and forgotten, and many of them live right here, in our own backyard.  And, the remnant's mission, your calling and mine, has not changed: Stay on target. Hold your post. Love your family, reach out and care for your neighbors, and serve your God. Jehovah is on the move, just like He was yesterday, and last year, and next year. All is well.