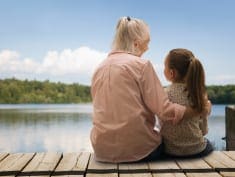 The following is my address at this year's Grandparents' Day event. Several parents and grandparents asked if they could have a copy, so I'll just make it this week's blog:
I may seem like an odd choice for a Grandparents' Day speaker. I am not a grandparent, as have been our Grandparents' Day speakers in the past. With a freshman in college as my oldest, I currently have no viable prospects of being a grandparent in the near future (I hope!). After being here for nearly 15 years, however, I have seen a lot of grandparents. I have seen great grandparents, and I have seen those that are, as our kids say, a little sketchy. So, when I was asked to speak, I thought I'd share some of these things, as exemplified and not exemplified in the life of my own grandmother.
My grandmom was Gladys Peveto. She was what we in the South call a "steel magnolia", and a force of nature. She loved passionately, and she could be meaner than a snake. There was no one more loyal to her friends. I wish I could say she gave me a legacy of faith, but she really didn't, much. She was a believer, but she didn't talk much about her faith. She drank Old Charter and water, and smoked until she had a stroke, which she promptly beat into submission and kept going. Her idea of a healthy meal was Fritos and Dr. Pepper. Yet she lived to be 93. I'm sharing all of this with you to show you that this was not some idyllic icon of the faith. She was deeply flawed. But, she was an awesome grandmom, and she impacted me tremendously in many positive ways. So, my point is: no matter who you are, the bar is not high for you to be an awesome grandmom, or granddad, too.  Gladys reached Grandparent Greatness primarily through two ways:
First, she was available. Being available for your grandkids is so important. Whether it was laying on her beds at her house with my sister with the lights out as she got a flashlight and regaled us with stories of Tyler in the 1910s and early 20s, and how she and her friends used to chase lightning bugs on hot summer nights, capturing them in mason jars while their parents talked together on the front porch while making homemade peach ice cream, or how she used to wrestle with us, putting us in leg locks like Fritz von Erich, she was always there. My best memories were visiting from Dallas where we lived, and spending the night at her house.  The house I now live in, in the room where I once put my young children to bed every night. God used those nights, and those powerful memories, to draw me to Tyler, and to ultimately get me right here, right now. I wouldn't be here without it.
You may not physically be able to have your grandkids spend the night with you, but if you can, please do. Even if you can't, come up to school, be at their games, their plays, and their Grandparents' Day activities. Their greatest memories of you will be those nights just hanging out with you. God gave you a special relationship with them they don't have with their parents, one that can only be realized through the gift of time. Maybe your grandparents weren't the types who let their grandkids come over. Change that, if you can. Your greatest gift to them is your time. You are the one person, including their parents, who always has time for them. Be present and engaged in their lives.
The second thing my grandmother did was to tell me the stories of my family. She told me who the Marshes and the Caswells were. She told me about my great-great grandfather, Col. Marsh, who lost an arm in the Civil War, mangling the other, then went on to be a Texas Ranger, and ultimately, Sheriff of Smith County. (How mean did you have to be back then to be a one-armed ranger or sheriff who couldn't hold a gun?) She told me about my great-grandfather, who was a friend and part of Governor Hogg's cabinet down in Austin, and of my grandfather, who died when Mom was seven, who, together with Judge Ramey, founded the law firm where I would ultimately work, that got me to Tyler. She told me about my great aunts, infamous Marsh sisters, the teachers at Tyler High and Lee who nobody wanted but everyone was grateful they had.  She told me that my family were hard workers and lawyers and educators, and that they stood for integrity and for making their community a better place, and that when I became a man I would need to stand for those things, too: to honor my family and its name.
What does your family stand for? Do your grandchildren know the stories of those who went before them? Do you tell them those stories? If not you, who will?  Ecclesiastes 7 says, "A good name is better than sweet perfume".  I think a sad consequence of our itinerant society today is that people don't know about their families, don't know their past, don't know who their people are, or where they come from. They have no connectedness with their past, so they don't fully understand themselves. Generations standing for something, particularly if that something is faithfulness to the Lord are a rich heritage. It grounds kids, gives them a foundation in times of turmoil. Who is your family and what does it stand for?
You may say, "well, my people were a bunch of scoundrels, I don't want my kids to know about that." Let me tell you, we've got our share of crazy, and several other peoples' shares, as well. But, once my kids got older, I shared that stuff with them, too. Because I want them to see God's Hand in the life of our family—where has He shattered cycles of brokenness in your family? Where has He brought redemption? Those are powerful stories that teach powerful lessons about the power of God's grace in the life of kids.
So, be available. Share your families' stories, and your family name. There's one final thing my grandmom didn't do, that I regret. In fact, I regret it so much I'm determined to do it in the lives of my kids and grandkids, if God will give me the days. Tell them the stories of God working in your own life. How did God save you? Who were you before He did? Do your grandkids see you living out your faith? Do they see that your faith is real to you? Have they seen you reading the Bible? Do they worship with you? Do you pray with them? At this point in their lives, there are very few people who impact them the way you do. If you live out your faith, talk about your faith. If they see Jesus in you, it will have a profound impact on the way they live their lives.
If you don't know the Lord, it's never too late to trust in Christ. My girls' grandfather, my wife's daddy, was just saved a few years ago. It's never too late this side of the grave. Show your grandkids that, too. What an amazing lesson: you humbling yourself before the Lord, embracing Him as your savior relatively late in life. Who knows? Maybe y'all can be baptized together. Talk about a memory that will stick with them forever.
A huge part of the man I am, the legacy I have left my daughters and I hope to leave my grandchildren, is tied up in the personality and work of Gladys Peveto.  I pray that 35 or 40 years from now, your grandson or granddaughter is standing up somewhere saying the same thing. And, the decisions you make now will impact that forever.