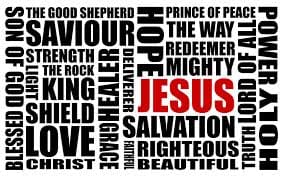 If you're asked if you love Jesus, I know most of us (those who read this, anyway) would answer, "Yes, of course." But, who is it we love?
If you're married, imagine that you said to your husband or wife when y'all were dating, "Stop! Don't tell me any more about you. I think I'm starting to fall for you, but I really want to fall for who I want you to be, not who you really are. I've got these preconceived notions of who I want you to be, and I'm going to love those instead of you, okay?" If you had the courage or gall to be that honest, you probably wouldn't have moved much past that date. Your no-longer-future-spouse would have said, "Well, then you don't really love me. Some wrong idea of me is not really me." And, they'd be right. And, you'd be back to Cheetos on Mom's couch by yourself.
Don't we do the same thing to Jesus, maybe all of us? I was reading a review in Christianity Today for a new book called The Original Jesus: Trading the Myths We Create for the Savior Who Is, by Daniel Darling (who made me think of Peter Pan). In the book, Darling catalogs many of the ways we misconceive Jesus in our modern society, using clever names: Prosperity Jesus, hairy-chested Braveheart Jesus. When we cast Jesus in our own image, Darling notes (channeling Calvin), he says that we reveal just what an idol factory the human heart really is, even turning the Son of God into something that is more palatable, that works for us.
Christology is the study of Christ, the theology behind His identity, His work, and His ministry. How is yours messed up?
Most of us would say we disagree with the whole historical Jesus movement- the idea of Red Letter Jesus- going through the Bible and picking out the words that Jesus actually said, rejecting those words that somebody else added (we have no idea who these nefarious "word-adders" were). But, do we do the same thing? I mean, we don't actually pull out the Exacto knife and start carving out passages of Scripture like Jefferson did, but don't we functionally do that in how we live? Ignoring or conveniently omitting those passages that are uncomfortable for us, or make demands on our lives, and sticking with what we like? Can we really use the term "Lord" when addressing Him, if we do that?
For example, many of us would say we don't worship Prosperity Jesus- the transactional Jesus who guarantees material prosperity and physical health in exchange for our worship. But, don't we kind of functionally live that way? What else explains how angry and offended we get that our country seems to be "going against us" on most social issues, that we as Christians don't have the prestige, the social acceptability that we once did? Do we believe it the Jesus that says, "Blessed are you when people hate you and when they exclude you and revile you and spurn your name as evil, on account of the Son of Man!" Or, do we really want comfortable, Prosperity Jesus, after all?
Was Jesus a Democrat or a Republican? Which would he have been were He around today. Most people say "Well, he would have not have been either. There would have been things He was for and against in the platforms of both parties. If that's true, why are we often so staunchly in the camp of one party or another? Does our Christology define our politics, or do our politics define our Christology? (I know, I'm meddling–you've probably tuned me out by now).
Why is all this important? Because once we're saved, we're called to have Christ's mind, His heart, to view life the way He views it. But, if we have no idea who Christ really is, or we do, but we don't accept it, how can we view life the way He does? How can we live life the way He calls us to live it? And, if that way is the way He designed it to be lived, who are we really hurting by not living it that way?
At Grace, our primary hope is delving deeply into the heart and mind of Christ, on an imperfect but sincere quest to understand Him, and to help our children understand Him and live as He lived. That's one of the founding principles of our community, what life as worship is all about. Please engage in the greatest act of love for your kids that you ever could by studying and modeling the real Jesus in your life. Please get Jesus right.