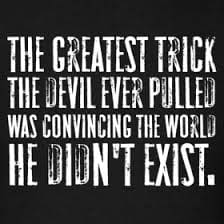 "The greatest trick the devil ever pulled was convincing the world he didn't exist." – The Usual Suspects
Truer words were never spoken than those uttered by the immortal Keyser Soze. When you start talking about the devil and spiritual warfare in polite company, you often get odd stares. It's fine to talk about things like feeding the poor, trips to Africa, even praying for people. But, once you start talking about things like demonic attack, people start looking at you as if to say, "Oh, you're one of those. At my church, we don't really talk about that stuff. We're not really holy-roller-types."
One can certainly take spiritual warfare too far, seeing demonic attack in every flat tire or burned dinner. We live in a fallen world, one over which sin is writ large, distorting everything. That means bad things happen, the cumulative effect of which equals a bad day, week, or month. Not spiritual attack.
But, that doesn't mean it doesn't happen. God promises that it does. "For though we walk in the flesh, we are not waging war according to the flesh, " Paul tells the Corinthians. Likewise, he assures the Ephesians, "we do not wrestle against flesh and blood, but against the rulers, against the authorities, against the cosmic powers over this present darkness, against the spiritual forces of evil in the heavenly places." Spiritual warfare is real, and not being equipped, or equipping our children, for it is just plain stupid, like not teaching a child the sound of an approaching V-2 rocket in wartime London. It's just as potentially deadly.
What does spiritual warfare look like? How do I discern demonic attack from the ills and injustices of living in a broken world? How do I help my kids see it? It can certainly come in dramatic format, like demonic possession in others. Most of the time, though, it is subtler than that. It often sets in like a storm cloud, or the embrace of a dark angel. You are tired, or worn out, or overwhelmed, or in the midst of enduring illness, or tragedy, or one of the other side effects of brokenness, and so your guard is down. You may either not be in the Word, or in prayer, or you are in a "dark night of the soul" as John of the Cross called it, where those things that once gave you spiritual comfort currently do not.
You have the Holy Spirit inside you, so you know the truth. But, the dark angel whispers into your ear, telling you that you're alone, that you're inadequate, that you aren't smart enough, or loved, or accomplished enough, or worthy enough. Although you know the truth, deep within your spirit you know they are lies, you listen, welcoming the dark angel's warm embrace, because in that moment, her words speak to what you "knew" all along, that ancient myth written deep into our collective, broken, consciousness: that you really don't have what it takes, that you're not good enough, that it really does depend on you and you don't measure up. You spiral into darkness. You want to pull out of it, every fiber of your being saying, "Stop being a wimp. Snap out of it! Buck up!" Which, of course, is exactly what the dark angel wants you to say. Yes, try to pull out of it by your own strength, by your own flesh. Keep trying. And, you can't. You feel the waves surround you, and you understand why people say that, in the end, drowning is the most peaceful way to die. At least for now, it's easier to succumb than to pull out…
That's what it feels like. It's not one size fits all, but that's the idea. And, kids need to understand that feeling, to be able to discern when they hear the lies. Because they really can't pull out in their own strength. Neither can you. There's only one remedy- same as it's always been.
The answer to the dark angel is the Spirit of Truth.
Now is not the time to pull yourself up by your own bootstraps. This is one of the big reasons the Body of Christ exists. Now is the time to tell your brothers and sisters what's happening to you, to let them come alongside you, to listen to your fears, to help you discern truth from lie, to pray over you, to command the demons to get away from you, using the authority that has been given you all only through the name of Jesus Christ, whose seal you bear. At the end of the day, they can torment you, but they cannot have you. You do not belong to them; you are His. They have no power over you, unless you let them. That is your great hope, and it is great indeed. Call down Christ's power, and have those around you do the same.
Most of us want our kids to be faithful, obedient followers of Christ, powerful in God's Kingdom. That is a beautiful vision, but one that will not go unmolested by those who stand opposed to, but will ultimately be defeated, by Christ and His Kingdom. Equipping ourselves and our children to resist the resistance is a vital survival skill for living in wartime.